iOS is more vulnerable than Android but hackers try attacking Google's platform more
24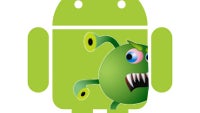 You've seen the
malware reports
and you've heard about it - Android is the most attacked platform by crackers. Should this worry you? Not necessarily, most of those reports come from mobile security companies and that's what they are directly interested in, but most importantly - Android is a secure platform with very little vulnerabilities discovered.
And this latest study by Symantec (a mobile security company, of course) shows that Android is the preferred platform for ill-intended programmers, but also confirms that this is despite facts like iOS being way more vulnerable than Android.
"Today, mobile vulnerabilities have little or no correlation to mobile malware. In fact, while Apple's iOS had the most documented vulnerabilities in 2012, there was only one threat created for the platform. Compare this to the Android OS; although only thirteen vulnerabilities were reported, it led all mobile operating systems in the amount of malware written for the platform. Vulnerabilities likely will become a factor in mobile malware, but today Android's market share, the openness of the platform, and the multiple distribution methods available to applications embedded with malware make it the go-to platform of malware authors."
Paradoxically, a more secure platform is attacked more by malware. We'd also mention that Google is also the more popular platform, and scale could be a consideration for crackers. Symantec also reports that while Google is quick to fix issues with updates, those updates often take a long while to arrive.
One common misconception about malware is that it is on the App Store or Google Play store. While there are isolated instances, the reality of the situation is that official app stores are mostly clean. Android being open also allows for third-party app store installation, and that's a land where Google has no oversight, and of course a place where malware flourishes. But avoiding those unchecked sources is a simple common sense advice, after all, right?
source:
Tech Crunch