iOS 9's impressive 'Low Power Mode' usage gains are not the work of magic, but processor throttling
38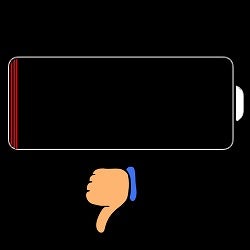 Apple's iOS 9
will drop a bevy of improvements when it hits the scene later on this year, and battery preservation is atop the list of tweaks in store. Cupertino has made some bold claims, too – iOS 9's 'Low Power Mode' can apparently dredge an additional three hours of battery life out of your iPhone or iPad. We already know that the OS
will turn off power-hungry features
like sensors and push notifications in order to spare those precious droplets of juice. But according to benchmark tests on beta versions of iOS 9, the secret weapon in Low Power Mode's armory is a spot of good, old-fashioned processor throttling.
HTC has engaged in this pastime with its flagship
One M9
recently, albeit for different reasons. The Android-powered handset packs Qualcomm's Snapdragon 810, and in order to stop the controversial chipset from overheating, the Taiwanese firm has been forced to reduce performance. Thus, the terms "processor throttling" has gotten a bit of a bad rep over the last few months.
In the case of iOS 9's Low Power Mode, however, it shouldn't be considered as such. Per the findings of MacRumors running iOS 9 beta through Geekbench 3 for iOS, an iPhone 6 Plus' multi-core score fell from 2,891 to 1,751 with Low Power Mode in action, while single-core performance decreased from 1,606 to 1,019. Proportionally similar conclusions were apparently drawn from an iPhone 5s put through the same test.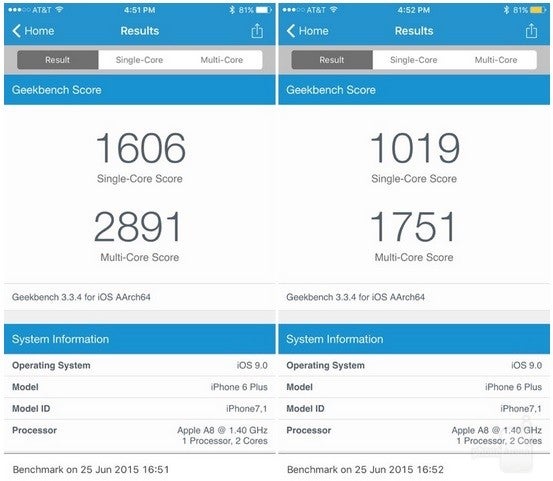 iPhone 6 Plus on iOS 9 beta in normal mode (left) and Low Power Mode
Losing performance is never a desirable trade-off, but when you've only a small portion of battery, all of the cores, RAM, and other high-spec stuff seems less significant. By hindering the processor to the point where presumably, an iPhone or iPad will still manage light and moderate tasks with aplomb, users seeking longevity will be able to bask in hours of additional usage time.
While the statistics do show clear throttling, it's worth remembering that the software is still in the initial stages of its beta stretch. Thus, things can and surely will change between now and when iOS 9 is ready for prime time, probably around September.
Thoughts?