iOS 9.3 features Night Shift, lockable Notes, new Quick Actions, and more; here's our review
61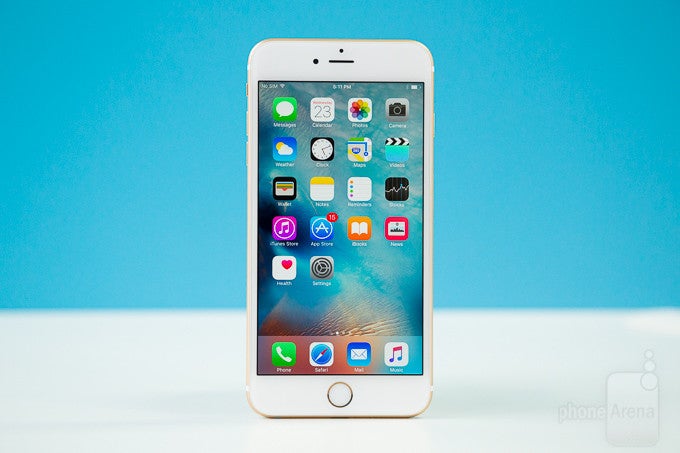 Apple events are always observed with excitement – either fueled by anticipation for new hardware to be announced or by expectations of a major software release to be shown for the first time. Yesterday's
Apple keynote
was definitely focused on the former. We got to see the smaller but powerful
iPhone SE
and the... smaller but powerful
9.7-inch iPad pro
, along with a bunch of new bands tailored for the Apple Watch.
But there's something new on the software front as well, namely iOS 9.3. The platform's latest build is now being pushed out to iPhones and iPads after being in beta for over a couple of months. In fact, we are already enjoying it on our iPhones here at the office. Here's what you should be most excited about, knowing that iOS 9.3 has been released.
Night Shift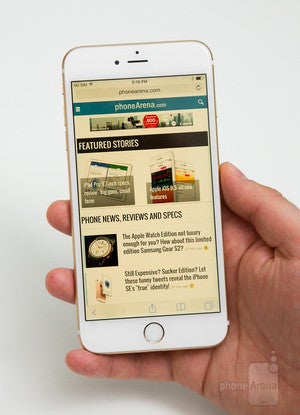 Night Shift filters blue light to help you sleep better
No other iOS 9.3 feature has drawn as much attention as Night Shift. We assume that's because of its potentially great practical value, but also due to the highly intriguing way it works. For those not familiar, research has shown that the blueish light emitted by modern gadgets' displays may delay the user's sleep. People who have the habit of fiddling with their phone, tablet or laptop before bedtime have likely experienced this. Night Shift comes into play by reducing the amount of blue light emitted by the iPhone or iPad's screen. As a result, the user may have a better time falling asleep at night.
Now, some of you may be skeptical about this whole blue light filtering thing. It seems a bit too crazy to work, we know. Nevertheless, we strongly encourage you to give Night Shift a try if you have troubles falling asleep. You see, the feature works just like f.lux – a piece of software that has been available on Mac, PC, and Linux for years. Having used it for a long time, some of us here at PhoneArena can confirm that it truly makes a difference. Your experience may vary, of course. On a related note, it will be interesting to hear the feedback of a broader user group after using Night Shift for a while.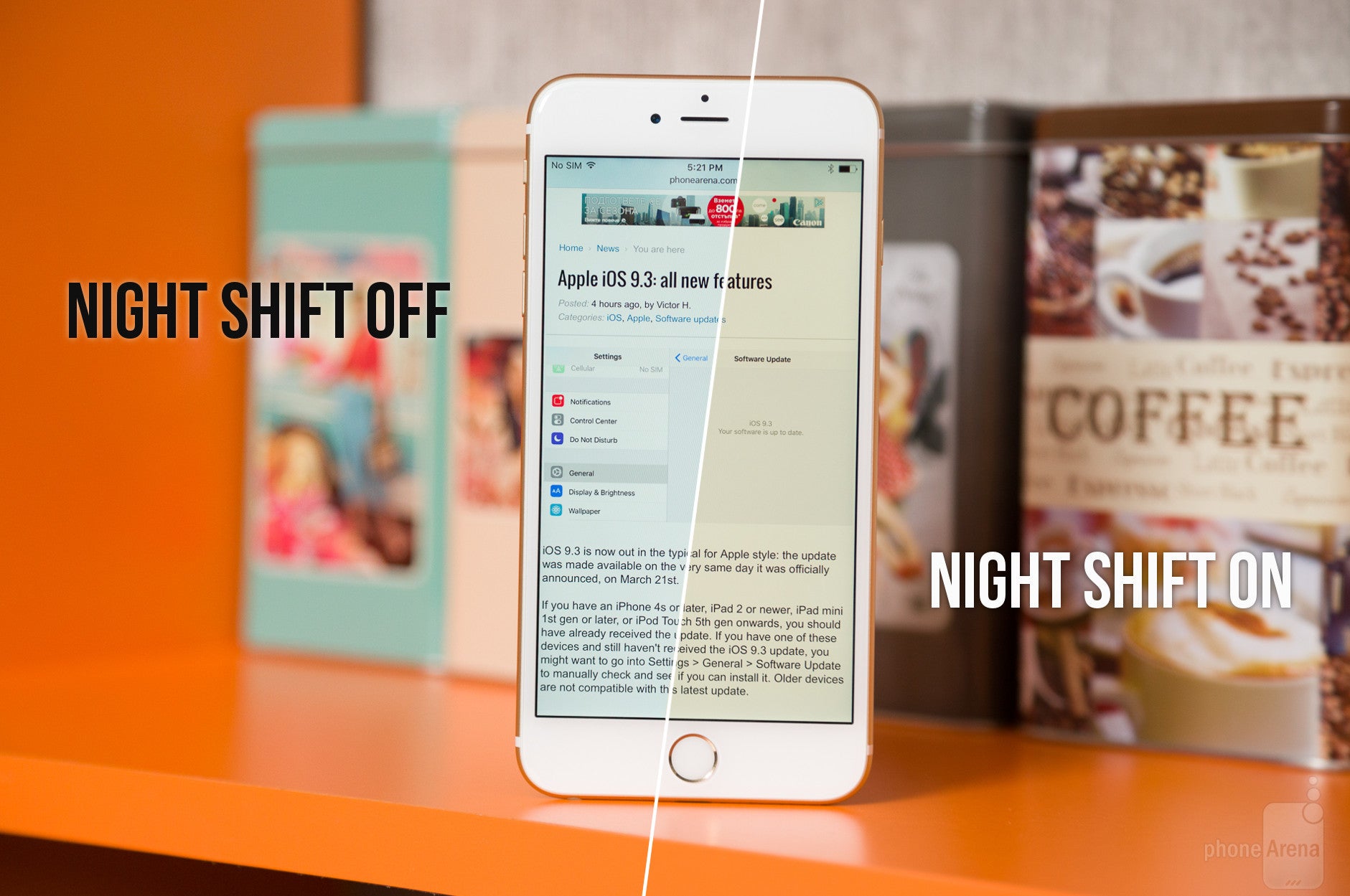 The downside of Night Shift is that it throws colors out of balance

Night Shift comes with its downsides, however. The obvious one is that it throws color accuracy totally out of balance, and some might simply not like the way it looks. On the other hand, there's a convenient toggle switch in the Control Center that flips Night Shift on or off – something iOS 9.3 didn't have while in beta. And you're free to regulate how much blue light gets filtered, which is neat.
New 3D Touch quick actions in stock apps

3D Touch is now a bit more useful with iOS 9.3. Quick actions to several of the system's stock applications have been added, including the very practical shortcuts to the battery, Wi-Fi, or Bluetooth settings, all accessible from the Settings icon. (The wallpaper settings shortcut available in iOS 9.3 beta has been removed for some reason.) Also, hard-pressing on the Weather app shows the top three locations in your list of cities. Overall, the added shortcuts aren't all that many, but we do appreciate everything that's new.






Notes can be protected with a password or fingerprint
It is one of the most used iOS apps, so it makes total sense for Apple to improve it. There are several new – and very useful, we must add – features in Notes added by the iOS 9.3 update. You can now sort notes alphabetically, by date added, or by date edited. You can easily make lists with the new checklist button at the bottom. And when sketching, a two-finger swipe to the left brings out another canvas. But the option to protect notes from prying eyes is the biggest feature that's been implemented. Yes, it is there, even though you might have not noticed it – the lock button is placed in the Share Sheet.
Overall, securing notes is a handy feature, especially when both a password and a fingerprint can be used for the purpose. But there's room for improvement. Firstly, it is strange that a protected note can still be deleted. Another peculiarity we must point out is that the first few words in the note remain visible even after the password is applied. This, we assume, is to give some indication as to which locked note we're about to open. Having multiple password-protected notes would be a confusing sight if they're all completely hidden.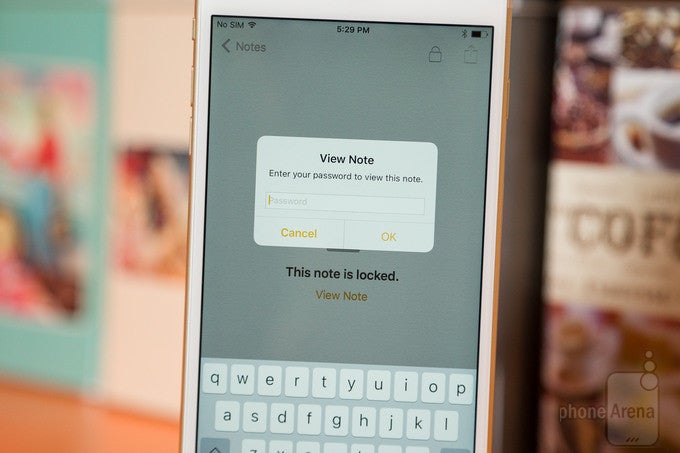 Notes in iOS 9.3 can be protected with a password or a scan of a fingerprint

As we mentioned above, a fingerprint can be used instead of a password for locking notes, although this option isn't as obvious as it should be. It is enabled by going to Settings > Notes and flipping the "Use touch ID" switch. Note that you must have a password on every locked note even if you choose to use a fingerprint instead of it.
A better News experience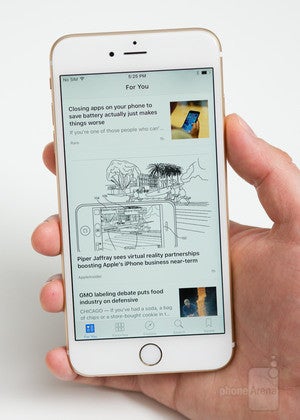 News in iOS 9.3
The News app in iOS is a great tool for keeping track of the latest headlines. It has grown even more useful now in iOS 9.3 – the latest update to the app makes it better at picking articles you may find interesting. These are listed in the Top Stories section at the very top. Unsurprisingly, our feed is full of gadget-related stories. And if you're not sure what stories to read or what sources to follow, the Editor's Picks section will come in handy.
We've also notices a few minor, but welcome changes to the News experience. For instance, swiping left on a story in our feed lets us quickly share it. Swiping to the right allows us to dislike it or to mute its source entirely. Videos can be played right in the news feed, without us having to open the whole story. And we can now read news in landscape orientation on our iPhone, although not all medias take full advantage of this.
Mind you, Apple's News app is still not the ultimate news app. You still can't add news feeds that Apple hasn't approved, there's still the occasional formatting glitch here and there, and text size adjustment is not available in every article. Not to mention that the service is only available in the United States, the United Kingdom, and Australia. But for anyone who just wants to stay informed on the latest news or the hottest trends, News should get the job done.
Conclusion
These are just some of the changes that iOS 9.3 brings to iPhones and iPads. The whole list of improvements in the new software release is much longer – too long for us to focus on each and every tweak. Still, there's a number of things we should mention, at least briefly: that iPads used in education may get to try the new multi-user support, for instance, or that AT&T customers will get to enjoy Wi-Fi calling. Or that third-party apps will be allowed to use Health data. Or that iBooks are now integrated with iCloud. Or that Siri now supports Finnish, Hebrew, and Malay. Or that the multitasking menu is faster. Or that a whole bunch of glitches and vulnerabilities have been fixed.
In a nutshell, iOS 9.3 is not a ground-breaking release, but we never expected it to be. It's an incremental update, after all. It is focused on squashing bugs and adding small, meaningful changes that make life easier. Night Shift is a great example of this. Should you be thrilled about its release? Not really. Better save your excitement for whatever Apple has in store for WWDC this summer. Until then, enjoy your smoother iOS experience.