iOS 8 brings improved Messages app with voice and video messages, location sharing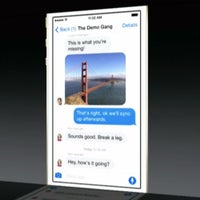 Say hello to iOS 8 – the latest edition of Apple's mobile operating system! Announced during the WWDC 2014 keynote, the platform is a major release that brings along plenty of welcome tweaks and improvements. Among the apps that have been treated to a generous upgrade is the one most used by iOS users – the Messages app.
Messages in iOS 8 features group messaging, in which you can add more people to the thread, or remove ones that shouldn't be part of the chat anymore. Plus, you get a handy dandy DND mode, in case you want to stay tuned to a chat, but prevent it from bugging you with notifications all the time. To personalize a thread, you can assign a name to it. Furthermore, the upgraded Messages app in iOS comes with built-in location sharing. One can share their location with others for a given period of time.
The iOS 8 variant of Messages supports voice and video messages in addition to texts. Audio messages can be heard straight from the lock screen, by just bringing the iPhone to your ear. Bringing the phone back down will let the user instantly reply with a voice message. Oh, and for fans of Snapchat-like services, Messages in iOS 8 comes with self-destructing voice, photo and video messages.