iOS 6: the new features
99+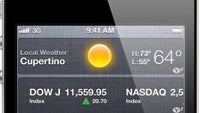 In just two days Apple is bringing not just a brand new iPhone, but an updated platform it will work on,
iOS 6
, the newest version of its mobile operating system, and here is a breakdown of the main new features, all in an accessible slideshow where we take you one feature at a time.
The new iPhone is expected to launch on or around September 21st, and as we've seen before, Apple will probably try to have iOS 6 out a couple of days ahead of that date, so we're probably looking at a release right after the middle of September.
First, though, you should know that iOS 6 is a
huge update with 200 new features
. Among the brand new things you'll see is Apple's own Maps solution with turn-by-turn navigation and 3D renderings of cities, a new Passcode app collecting and organizing your boarding passes, store cards and others of the like.
Siri has received a huge overhaul with plenty of new features added so it now know more about sports, movies, restaurants and works with the new maps. Facebook is also deeply baked into the platform and well integrated with both apps and contacts.
There are a lot of nice little touches in the phone book, email, Safari and others that really seem to make this a must-have update to iOS. Check them all out below.
Have we missed some of the exciting new features in iOS 6? And what's your favorite new addition? Sound off in the comments!