iOS 14 brings good news for AirPod users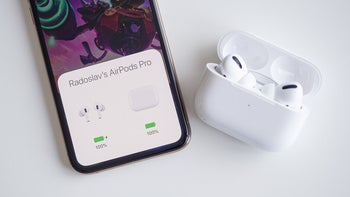 Since iOS 14's beta release yesterday, we've managed to
uncover a whole host of exciting new features
, from long-awaited widgets to
clever new controls like Back Tap
. We've also seen improvements to the AirPod experience, including improved device switching and some
very cool surround sound simulation
. However, that isn't all that Apple is planning for its popular wireless earbuds.
A screenshot from software engineer Hüseyin İyibaş reveals a familiar feature that's making a comeback for AirPods, and that feature is none other than Optimized Battery Charging.
AirPods also have "Optimized Battery Charging" #WWDC2020pic.twitter.com/dfUA1Lna8A

— Hüseyin İyibaş (@huseyiniyibas) June 23, 2020
If you recall, the feature, which first debuted on iPhone and iPad devices last year, uses machine learning to learn and anticipate your schedule to optimize the charging schedule and reduce the stress on the battery. For example, if you leave your device plugged in overnight, it'll stop charging at around 80% and then pause for a bit to make sure it gets to 100% around the time you usually unplug.
It's certainly a nifty feature and an excellent way to extend your battery's performance, but it's even more significant in the context of wireless earbuds. You see, most modern smartphones have batteries that are capable of performing at or near peak capacity for years, and they're equipped with smart software to keep it running in tip-top shape. But the story's a little different with AirPods.
In fact, one of our polls found that
almost 60% of respondents saw their AirPods decline drastically
in the battery life department— and the batteries can't be replaced, meaning owners will need to shell out anywhere from
30 to 140 dollars to get them replaced,
depending on the warranty.
That's why any way to extend the AirPods' long-term battery life can be a really big deal, and we're glad to see Apple using software tricks to accomplish that. Of course, accessories with an expiration date will never be the ideal solution, but it's a step forward, at least.
Which iOS 14 feature excites you the most? Read more about some of our favorites
here
.