iOS 10 is the biggest iOS update ever: greatly improved user experience coming to iPhones and iPads
51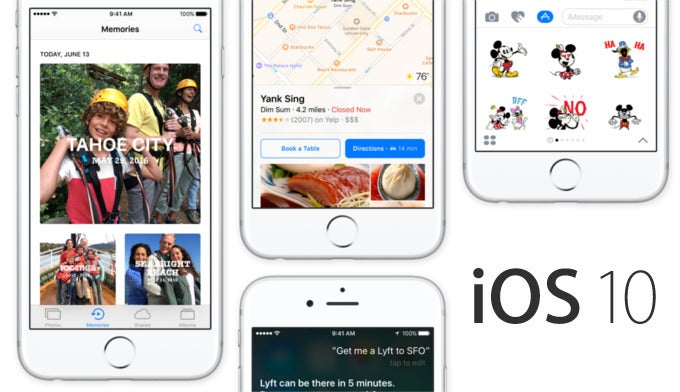 Oh, what a day it has been! The tech community is rattling with announcements, and the latest one on the list comes straight from WWDC. Right on cue, Apple announced the newest version of iOS, the software powering the millions of iPhones and iPads worldwide. It is called iOS 10.
Focusing on user experience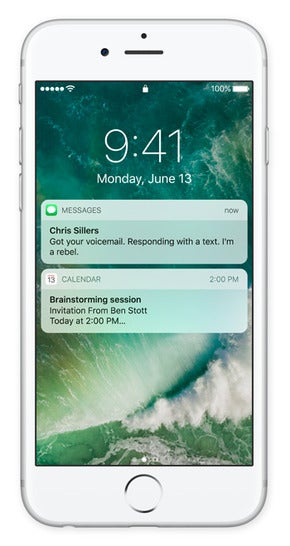 The redesigned iOS 10 lock screen showing notifications at a glance
Naturally, the iOS 10 announcement brought us a lot to be excited about. The presentation begun with a focus on user experience and highlighted several new features, including the enhanced lock screen. In particular, iPhone users surely know how unlocking the phone with a fingerprint happens so fast that they can't read their notifications on the lock screen. This should be a thing of the past with iOS 10's release, as the iPhone's screen will turn on automatically as soon as the device is picked up. Neat!
Speaking of lock screen improvements, iOS 10 makes it easier to get into the camera app. Swiping in from the right edge of the screen is to become the new camera shortcut. The feature was demoed on screen and it was fast indeed. Swiping in from the left will display the user's widgets, many of which should be able to provide further information with a Force Touch hard press.
Another enhancement brought by iOS 10 is one we actually wished for. Force touch is going to be a lot more useful, as it now integrates widgets with every actionable home screen icon. Hard pressing on your activity app, for example, will show details of your progress. This works for third-party apps as well. The ESPN app was demoed on stage, showing scores from a live game.
Siri just leveled up
Serving 2 billion requests every week, Siri plays a key role in the whole iOS experience. Therefore, it makes sense for Apple to make her even more functional, which is why in iOS 10, developers will have open access to the virtual assistant. In other words, Siri will be able to respond to queries related to third-party applications – a feature we actually expected to get. For example, users of the WeChat app can simply instruct her to "Send a WeChat to Nancy". Siri will send your message via the third-party messaging app without the need to leave the Siri environment. Another demo shown on stage was calling a cab via Lyft. Apps like Slack, WhatsApp, Uber, Pinterest, Runtastic, Square Cash, and many more have been confirmed to get Siri integration. There's surely a lot more to come once developers learn how to tap into Siri's potential.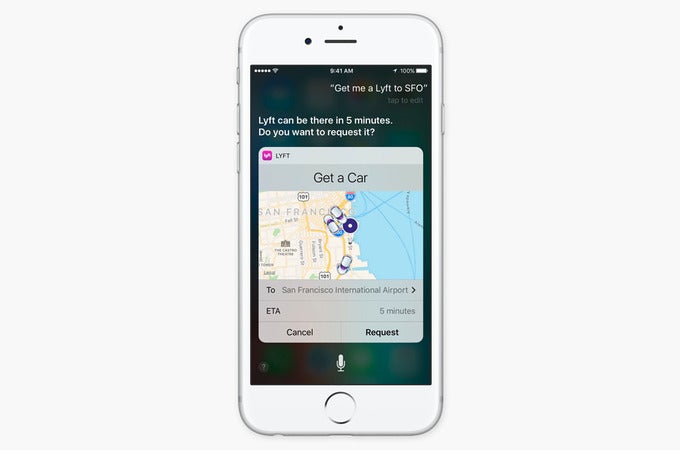 Siri in iOS will get along really well with third-party apps

Chats are to get a lot more fun
On the topic of messaging, Apple has implemented deep learning into iOS 10. This allows for more accurate, more relevant suggestions to be presented when typing – suggestions taking into account your current coordinates, who you're chatting with, or how busy your calendar is. If you're asked for your location, for example, a suggestion to share your whereabouts via Apple maps will pop up. What's more, multilingual typing will be enabled, letting you get suggestions in different languages.
The Messages app in iOS 10 is getting a welcome refresh as well. New features have been added, including the option to make text and emojis bigger or smaller – you know, for those times when you want your message to have the right impact. Furthermore, messages that are extra personal can be hidden with "invisible ink". Then the recipient can swipe their finger across the message to clear it up. This works for images as well, by the way. Folks who are into emoji will love the app's ability to highlight words in their message that are replaceable with an emoticon.
But that's not all. Stickers are to be added to Messages as well, letting users turn an ordinary chat into a personal conversation. And with the new iMessage apps, users will get access to favorite third-party apps. Imagine responding with a GIF without having to leave Messages at all.

But you know, some folks still make actual phone calls. The Phone app in iOS 10 can now tell the difference between some spammers and actual people, which is a feature that is going to be super useful in China, we're told.
Photos are turning into memories
Advanced Computer Vision has paved the way for Photos to get face recognition. Images of your favorite people will be automatically grouped together for convenience. All of the processing is done locally on your device, minimizing the chance of your privacy being compromised. Object and scene recognition have been added as well to make searching for a particular image much easier. Photos can also be grouped by location and displayed on a map.
No less exciting is the new Memories feature found in the photos app. Situated in a new tab, it aggregates images from recent or relevant events – compiled intelligently, without the need for user intervention. This can be a view of your last weekend getaway, or a highlight reel with the past year's best moments. Memories come in the form of a series of images, but iOS also builds a beautiful video showing off those special moments.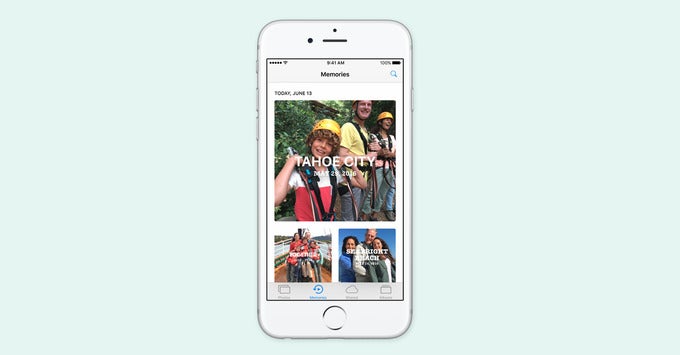 iOS 10 creates beautiful Memories from your photos
Apple Music, now with lyrics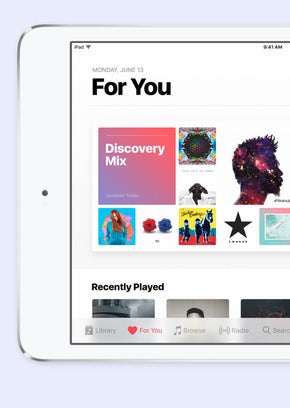 Another iOS 10 feature predicted by the rumor mill was the upcoming upgrade to Apple Music. What wasn't expected, however, was for song lyrics to be added. We're also welcoming the new design. The app has been simplified in many ways, allowing users to get to the music they want to listen to more easily. For example, the Library is now the first tab being shown. Music is organized by album, artist, or song name, as it should be. There's the convenient section where all your recently added music resides, as well as a section containing every song downloaded onto the device. And no less importantly, Apple Music will learn what kind of music you enjoy and generate daily playlists, made especially to suit your taste.
We should also mention that Control Center now contains a dedicated page for the music being played. It is accessed by opening the panel with a swipe up, as usual, followed by a swipe to the left. This is where you access playback controls, as well as information about the music being played.
Apple News - something to read about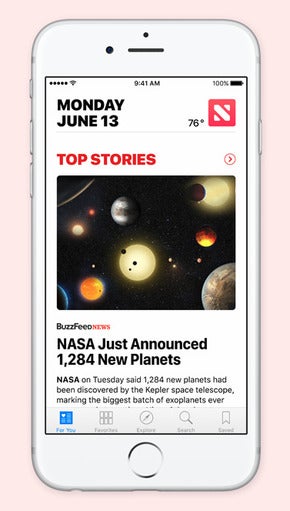 Apple knew that its news aggregator was still a bit rough around the edges, so in iOS 10, we – and the 60 million users of the service – are treated to some UI and functional optimizations. Stories picked for you are separated into trending and top news, followed by all of the topics that you follow. The app should be smart enough to create new categories based on content that you read.
To keep you up to date on your favorite premium publications, News will add support for subscriptions. Content from The Wall Street Journal and National Geographic will be accessible this way, with support for more to follow. And to keep you right on top with the hottest news, the app is getting breaking news notifications. These will be displayed straight at your home screen when appropriate.
Pushing IoT forward with Home
Home will be a new app you'll see on your iPhone when you get the iOS 10 update. It will bring your handset closer to the future by allowing it to communicate with the Internet of Things. Intelligent lights, air conditioners, door locks and many more devices can be controlled remotely, from wherever you are. Imagine being able to see who's at the door without even being home – that's just one of the many functions Home will enable.
iOS 10 release and beta testing
While the launch of iOS 10 got us super excited today, it will be a while until we actually get to try it. The software will become available to developers first, and a public beta version will be released in July. Then the finalized iOS 10 release will most likely come in the fall, along with the launch of the next-generation iPhone.