iFixit brings mirrored rear iPhone panels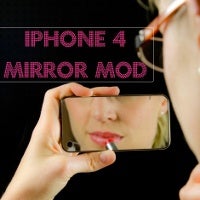 Remember the Philips 639? Hey, we're kidding - we do remember it, but we doubt many others would. Shortly put, it's a good old flip phone from 2004 with one notable feature and the ladies loved it for it (we can testify), and probably some men did too. But what was so special about the Philips 639? Simple, its front panel transformed into a mirror, and lesson learnt from back then was that the uber phone of the future will also have a mirror. Uber for some!
That reality has just come true for the millions of iPhone users in the form of a replaceable back panel that is actually a mirror. Yes, it's real and is now on sale at iFixit who suggest that a mirrored back is the perfect tool for taking hipster duck face photos. Jokes aside, the panel seems more practical, scratch-resistant, shows less smudges than the black panel and looks plain stylish. It costs $30 and is extremely simple to install. Hit the source link below to order it and check out the video below - and don't just think about yourself, your girlfriend may love it.