i3D brings glasses-free 3D to your iPhone 4 and iPad 2
12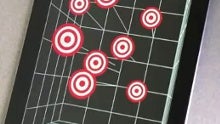 We told you about this one back in April. But now you can try the
Head-Coupled Perspective
for yourself. In an effort to be more marketable, or at least a little more clear in purpose, the creators have chosen a new name: i3D.
And the i3D's mechanism is impressively simple. By following your head with the front-facing camera, it adjusts the image to give the impression of depth. And while it's not as flashy as other 3D options, it's certainly preferable to carrying around one of
Hasbro's My3D
viewfinders.
One of the researchers says that "Such spatially-aware mobile display enables to improve the possibilities of interaction." We think this could be a great way to explore 3D models. It would be particularly useful if it were incorporated into something like
Google Body
.
The exclusion of accelerometer and gyroscope support is a bit odd. One might expect the developers to incorporate the ability to manipulate the image by tilting the device. But, because of processing power, battery consumption, or simple time constraints, i3D currently only uses the front-facing camera.
The i3D demo app is available for free in the App Store. Keep in mind that it will work best if you are in a well-lit room, and both you and your clothing are well contrasted from the rest of the room.
source:
DocteurCube (YouTube)
via
Redmond Pie