i-Mate may be working on a Windows 8 phone (yes, you read that right)
10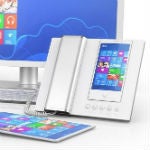 Windows Phone 8 has the "
shared core
" that Microsoft has been eager to hype up, but it looks like one company might have been inspired by the
Ubuntu convergence
idea, and doesn't want to bother waiting for the real convergence of Windows Phone and Windows 8. A new rumor is saying that i-Mate may be working on a Windows 8 phone, called the Intelegent (which seems to be a mashup of "intellegent" and "elegant").
We haven't seen anything of the sort at MWC, but according to The Seattle Times, the Intelegent is planned to be unveiled in Barcelona in the next couple days. The report claims that i-Mate will be showing off the 4.7" phone, powered by an Intel Clover Trail processor, running full Windows
8 Pro
, and has an optional "hub", which is a docking station with multiple accessories.
The dock itself turns the phone into a classic wired phone, complete with handset. The dock can then be used to power a keyboard, mouse, and 23" display for a traditional desktop experience, or power a 10.1" wireless tablet.
Word has it that the Intelegent would retail for $750, and the hub equipment would cost $1600.
Of course, i-Mate is a company that is known for "major fraud", so we wouldn't really expect this to become a reality. It is more than likely just vaporware
.
source:
The Seattle Times
via
WPCentral