Google will soon blur explicit search result images by default
3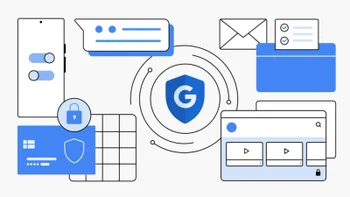 Today is Safer Internet Day which makes it the perfect time for
Google to announce
that it will enable a new SafeSearch setting by default for all users in the upcoming months. The new setting will automatically blur explicit images on the Google search app. The filter will be the new default for users who don't have SafeSearch already turned on.
Google says that "When SafeSearch is on, it helps hide explicit content on Search. When SafeSearch is off, you'll see the most relevant results for your search, which may include explicit content like images of violence." Explicit content includes pornography, violence, and images showing blood and gore. In other words, this content is not what you want your kids to be viewing and if you have a sensitive stomach, you might not want to see them either.
While the blur filter will be on by default, it can be disabled by adults

If you're not sure how you have your SafeSearch toggle set, go to the Google app and tap the profile picture in the upper right corner. From there, go to
Settings
>
SafeSearch
and check the toggle setting.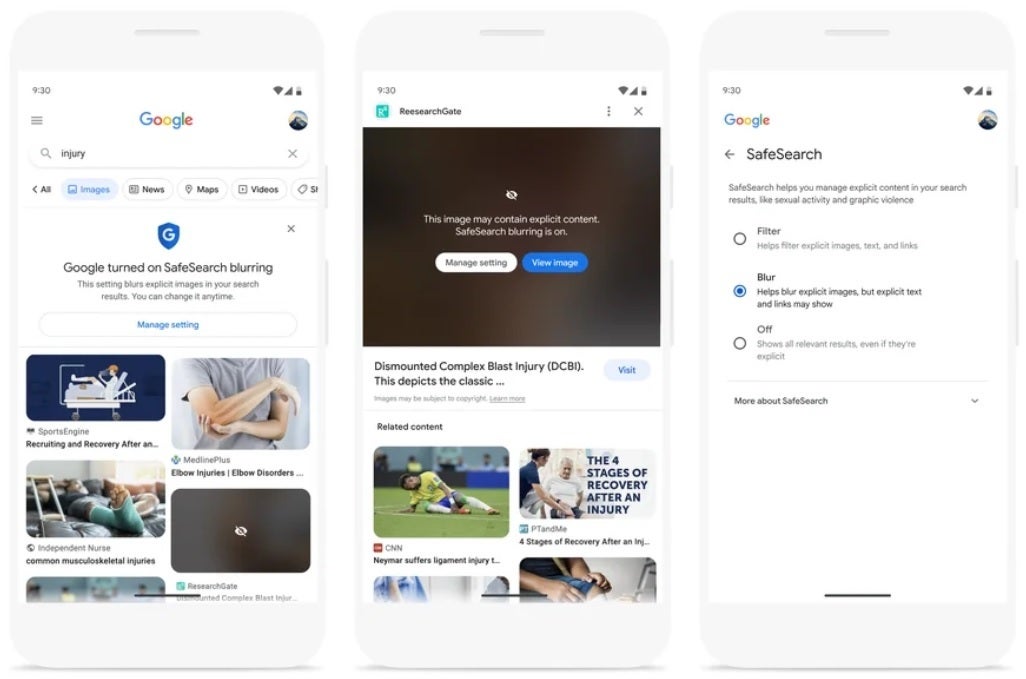 Google will soon blur explicit images by default found on the Search app
Even those who have the SafeSearch filter disabled will soon have the blur filter on by default. As a result, if a user comes across an explicit image in a search result such as pornography, violence, or blood and guts, the image will be automatically blurred. Those who want to view the image will have the option of tapping the "view image" button. Pressing the "manage setting" button will allow users to adjust or disable the filter.
For example, under "manage settings," selecting the "filter" option will blur explicit images while selecting "off" will turn off the filter allowing you to view the explicit images. SafeSearch will work only with Google search results and will not block or blur explicit images found on other search engines or apps and websites. The focus, though, is on the children. Starting in August 2021,
Google
turned SafeSearch on by default for users under 18 years of age.
Making the blurring setting enabled by default for all users makes sure that children and teens that haven't signed into Google (which means that the filter might not be enabled even if they are under 18) aren't looking at explicit images. It also helps those who are unaware of the new feature realize that it is there. Again, those adults who don't want the filter on can turn it off by following the aforementioned directions.

Google extends the use of virtual cards to those using American Express to pay for an online transaction

And in situations where the explicit content wasn't meant to be titillating or gory, Google uses AI to help find these images to remove them even if SafeSearch is disabled. Google didn't say when the new blurring feature will be rolled out to Google search users. As of this moment, it is not on this writer's Pixel 6 Pro running the latest Android 13 QPR2 Beta.

Google is also making the Google app safer in iOS. While it already offers an Incognito mode for iPhone users and allows them to remove the last 15 minutes of Search history, there is more protection on the way. Soon, iOS users will be able to set up Face ID to make sure that no one else can open the Google app on their phone and steal their data.
In addition, Google announced that in addition to Capital One cardholders, those using American Express cards will use virtual cards that create unique numbers for an online transaction. With the use of virtual cards, your real credit card numbers are not given out to merchants hiking the security level of online transactions.