Android Pie is still at 0 percent, but Google expects its expansion to outpace Oreo soon
20
Originally unveiled with the Android O build back when the Oreo name wasn't even official,
Project Treble
basically aimed to make it easier and faster for manufacturers to update devices to a new OS version.
But to be perfectly honest, we haven't really noticed an improvement in Oreo delivery times compared to the spread of Nougat or earlier Android flavors.
Some OEMs have done a better job
than others updating their new and old phones, contributing to a modest 21.5 percent combined market share for Android 8.0 and 8.1
as of October 26
.
Things look even worse for Android Pie, which still hasn't shown up in the official distribution chart, although
Google continues to hope
the Treble architecture will make a difference... eventually.

The search giant expects "to see more devices from OEMs running Android 9 Pie at the end of 2018 as compared to the number of devices that were running Android Oreo at the end of 2017."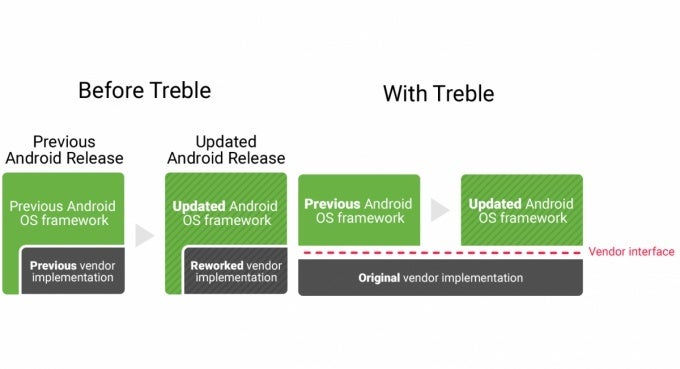 You'd think a "feat" like that wouldn't be so hard to pull off considering a measly 0.5 percent of the world's active Android devices at the beginning of December 2017 had either launched powered by Oreo or made the move from Nougat. But that microscopic number was actually preceded by 0.2 percent distribution in early October.

For what it's worth, even if Android Pie fails to hit 0.5 percent share by the end of the year, its subsequent expansion should easily outpace Oreo or Nougat's own growth efforts. That's because all devices launching with Android 9 Pie or later "going forward" will be Treble-compliant by default, taking "full advantage of the Treble architecture to deliver faster upgrades."