New Google Play in-app purchase UI is rolling out now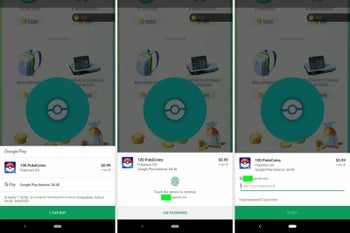 Google has started rolling out a redesigned and more streamlined interface for in-app purchases,
9to5Google
reports.
Up until now, initiating an in-app purchase would open a new window, smack-dab in the middle of the screen, where you would select payment options, input your password, or authenticate the transaction with your fingerprint. The updated UI, however, streamlines things by presenting users with a payment window that slides up from the bottom of the screen and is less obtrusive.
Another change, as spotted by
9to5Google
, is the subtle "Google Play" branding at the top of the window (lest you forget where your money is going), followed by the in-app purchase and its price, and the name of the application at the bottom. Some of this information was previously nested in a pull-down menu.
There is also a prominent, green "1-Tap Buy" button, which brings you to a screen where you can authenticate the purchase with either your password or an enrolled fingerprint.
As with most things Google, the redesigned in-app purchase screen is rolling out gradually, so your device may not have it right now, but it should pop up in the next couple of days.