Google explains why it won't let you customize the look of Google Assistant on Android
3
Google Assistant is considered by most device users to be the best virtual digital assistant beating out Alexa, Siri, Bixby, and others. But you might have noticed (and in all honesty, it isn't hard to spot) that on Android, Google Assistant is always in Dark mode even if you have your system setting on Light mode. Back in October, Google said that Light mode is no longer available for Assistant on Android.
Now, Google has
issued a support page titled "Assistant Uses Dark Mode By Default"
in an attempt to revisit the issue. On the page, Google writes, "Google Assistant regularly tries new ideas to see what works and what could work better. This includes ways to make our products look and feel consistent throughout our product ecosystem."
The company continues, "To offer a more helpful visual experience across all your devices, including Pixel Watch and Google TV, when you engage with Assistant on mobile Light mode is no longer available - it will now have a dark appearance, even if you have Dark theme turned off in your phone settings."
The bottom line is that you shouldn't expect to see Google Assistant in any other theme other than Dark and if you're not a fan of white text on a black background, you're SOL (Google it).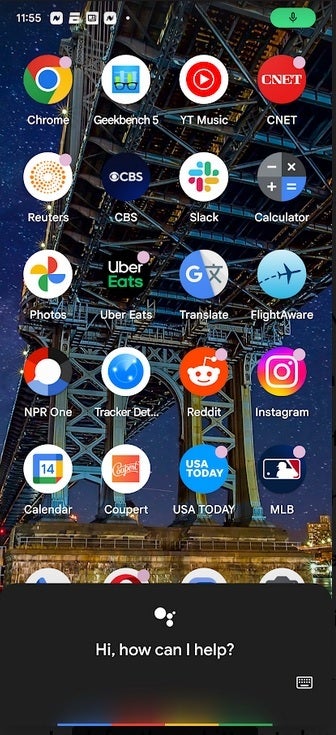 Google Assistant, on the bottom of the screen, will show up in Dark mode only on Android
As we told you less than a week ago,
Google Assistant will be playing a key part in the new Google Lens feature
"Search your screen." This feature allows users to employ Lens to search photos and videos from websites and messaging and video apps. For example, if someone sends a video to you via your Messages app and you see a landmark in the background that you're curious about, activate Google Assistant by long-pressing on your Android's power or home button. Tap on "search screen" to get the info you want.
This feature is part of an update that will be disseminated over the upcoming months.

Perhaps there will be a day in the future when
Google
gives Android users the ability to decide whether they want to see Google Assistant in Dark Mode or Light Mode. But for right now, if you're an Android user, you have no choice.