Some iPhone and iPad users receive warning from Google not to log in to Gmail under this scenario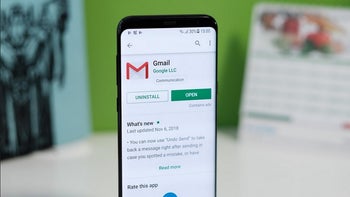 Google
hasn't finished updating all of its iOS apps for a few months now. That has reportedly been done to prevent Google from having to submit to
Apple
an App Privacy report for all of the iOS apps it offers. This report reveals all of the user data that a particular app can acquire from an iOS and iPadOS user before the latter installs said app. Apple demanded that all apps updated after December 7th include the App Privacy report with its listing in the App Store. And even though early in January Google said that it would soon update most of its iOS apps, that never happened.
Gmail issues warning to iOS users in some scenarios due to the lack of an update

According to a tweet from Techmeme editor Spencer Dailey
(via
MacRumors
), it has been so long since the Gmail app for iOS/iPadOS has been updated that those who log into a new account for the app will receive a warning message saying that they should update the app because the version being used does not have the latest security features. But this is merely a warning, and you can still continue to sign in with a new account "if you understand the risks." Besides, Google does not offer an update to the iOS/iPadOS version of the app. The version of Gmail currently available for the iPhone and iPad is version 6.0.201115 and it has not been updated since December 1st. Some iPhone and iPad users are not seeing this message when logging into a new account for the iOS version of Gmail. That's because Google is busy pushing out a server-side update that gets rid of the warning message for some users.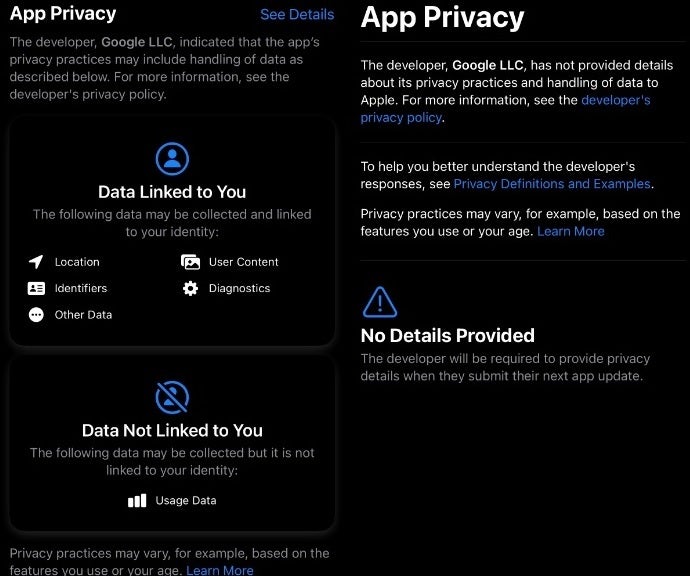 At left, the App Privacy label. At right, an app that Google has failed to update
The App Privacy reports can be found on an app's listing in the App Store under the Ratings & Review and What's New sections. It will show the data that the app can collect and link to the user's ID. It will also show data that can be collected, but cannot be linked to the user's ID. The App Privacy report lists all of the data that an app can collect, not all of the data that it will definitely obtain from an iOS user.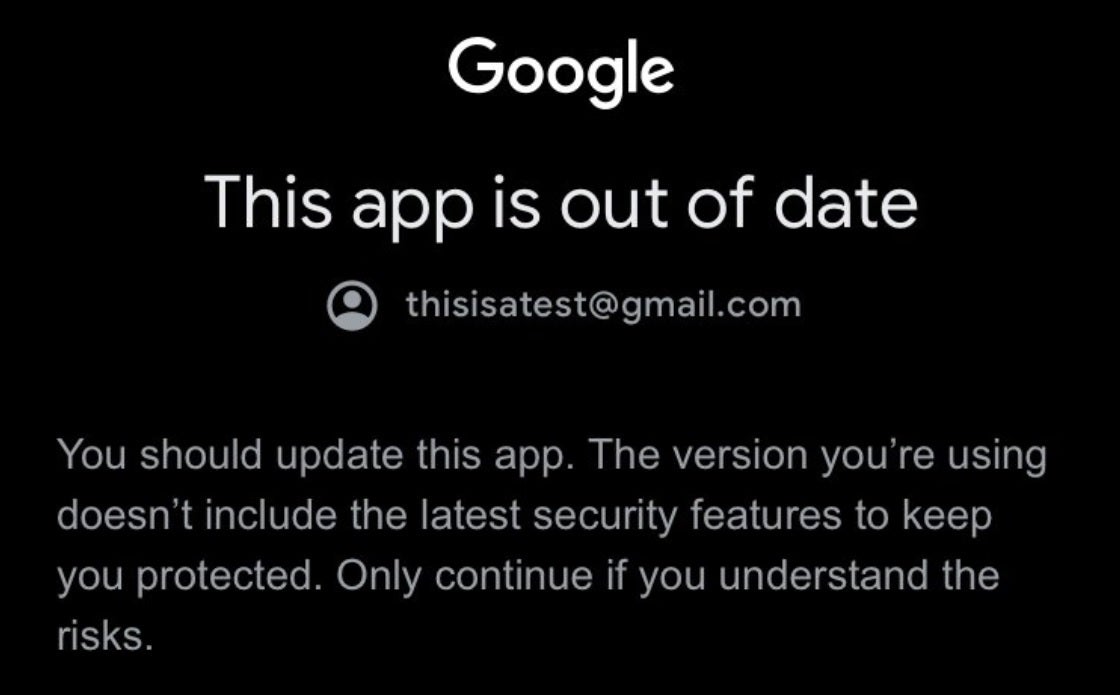 Gmail users on iOS or iPadOS looking to log in using a new account might see this warning
Google has added the App Privacy label to some of its iOS apps like YouTube, but has still failed to add the label to its popular iOS apps such as Google Search, Google Photos, Google Maps, and others. Besides YouTube, some of the other Google apps made for iOS that do have the App Privacy label include:
Stadia
Google Translate
Google Authenticator
Google Play Movies and TV
Google Classroom
Google Fiber
Google Fiber TV
Wear OS
Onduo for Diabetes
Project Baseline
Google Smart Lock
Motion Stills - GIF, Collage
Some Google apologists are saying that Google hasn't added the label to its major iOS apps because there are no new features to add to these apps. However, the latest update for the Android version of Gmail was disseminated on February 9th. Sure, that might not mean a thing, but it does seem strange that many major Google apps for Android have received regular updates while the iOS/iPadOS versions have not.
Some believe that Google is wary of posting the App Privacy label for its apps because of the negative feedback that Facebook's App Privacy labels received after App Store users had to scroll through quite a long list of data that these apps can obtain from users. Still, it might be better for Google to rip off the BandAid, let the chips fall where they may, and update their iOS/iPadOS apps. At this point, many expect that Google's labels will be just as long as Facebook's anyway.
This Spring, Apple is expected to release its App Tracker Transparency feature that requires uses to opt-in if they want to continue being tracked by a third-party app's tracker for the purpose of receiving customized advertisements online. Fackbook, which had almost $85 billion in ad revenue last year, fears that this could cut its ad revenue by as much as 50% starting with the second quarter of this year.

Recommended Stories