Galaxy Z Flip 5 might come with refreshed hinge design, larger cover display and battery
5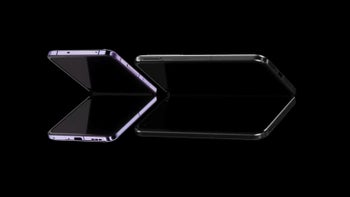 Update
:
It seems that IceUniverse has deleted the tweet.
In a recent tweet, popular leakster
IceUniverse
details their expectations that the upcoming Samsung
Galaxy Z Flip 5
will employ a "water drop-shaped hinge", similar to the one that will reportedly be making the rounds on the yet unreleased Oppo Find N2 Flip foldable. This hinge design will potentially save Samsung a bit of space and weight, making its next clamshell foldable an even more compact and easy-to-handle phone.
What's more, utilizing such a hinge design would potentially eliminate the visible main display crease, allowing for a duller fold line between the two portions of the display. Samsung has been trying to get rid of the display crease on its foldables for years, and the rumored water drop hinge could be its best bet at largely eliminating the unsightly and non-premium crease on the upcoming Galaxy Z Flip 5.
This hinge design will leave a water drop-shaped gap between the two halves of the folding display along the fold line. A less sharp fold will eliminate the extremely noticeable crease that appears across the middle of the screen when the device is unfolded.
Of course, you could also argue that Oppo was quite inspired by the various generation of Samsung's clamshell Z Flip phones, thus coming up with its own Oppo Find N2 Flip, so who-copied-who is certainly a gray area in this case.
It is expected that the Galaxy Z Flip5 will imitate the design of OPPO Find N2 Flip, the hinge will be changed to the water drop type used by OPPO, the external screen will be similar to OPPO's 3.26" screen, and the battery may also increase, but it may still not surpass OPPO

— Ice universe (@UniverseIce) December 8, 2022
Oppo's Find N2 Flip foldable is expected to be unveiled on December 14, 2022, and lots of details about the foldable device have already surfaced. Just the other day, we caught wind of a video of the
foldable phone in action
. Despite being clad in prototype camouflage for security reasons, we get to see the nifty upcoming wearable from all sides, and especially intriguing is the extremely large cover display, which reportedly spans 3.26 inches in size, an extremely large screen for a clamshell foldable phone.
IceUniverse expects that the Galaxy Z Flip 5 might adopt such a large external display, which would fit way more content than the rather simplistic cover display found on the Galaxy Z Flip 3/ Galaxy Z Flip 4 generations. On the latter, you can swipe between a slew of mini widgets and screens that show you important information, the current time, weather, and any incoming notifications. With a larger display, the Galaxy Z Flip 5's external cover display would become that much more useful than before, and while assuming that it could be as useful as the 7.6-inch external display on the Galaxy Z Fold 4 is probably too outlandish, we might assume that it will allow you to reply to messages, have a mini app drawer of sorts, and also possibly view mini versions of your installed apps.
IceUniverse expects that another potential Galaxy Z Flip 5 improvement could be a larger battery. As the Galaxy Z Flip 4 came with a 12% larger battery unit (3,700mAh) than the one inside the Z Flip 3 (3,300mAh) without changing the overall dimensions, we could probably anticipate such an uptick with the Galaxy Z Flip 5 as well. Samsung could either utilize improved battery chemistry or force users to stomach a slightly larger phone.
Although not much else is known about the Galaxy Z Flip 5 as it's just too early for any serious leaks, we expect things to heat up in the following months, as the Galaxy Z Flip 5 will likely arrive in August 2023.