Galaxy Watch 5 series get temperature-based cycle tracking
1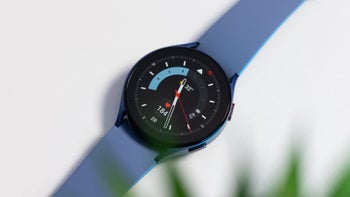 Samsung just announced a new feature coming to the
Galaxy Watch 5
and
Galaxy Watch 5 Pro
, in partnership with Natural Cycles. Galaxy Watch 5 users will now get temperature-based menstrual cycle tracking. The feature is backed by Natural Cycles' algorithm adapted for a smartwatch for the first time.
Galaxy Watch 5 series gets an important women's health feature: cycle tracking
The new feature will be available to users in 32 countries across Europe, North America, and Asia. It uses Samsung's sensor technology with Natural Cycles' innovative fertility tech so that users get detailed insights into their menstrual cycle.
Dr. Raoul Scherwitzl, co-founder and co-CEO of Natural Cycle, said:
As a company that's grounded in science and technology, we are excited to partner with Samsung to deliver a premium experience that pushes women's health forward. The Natural Cycles app has helped millions of women around the world take control of their fertility and this partnership will allow Samsung to leverage our fertility technology to offer temperature-based cycle tracking through a smartwatch for the first time.
Natural Cycles developed the world's first app powered by a proprietary algorithm that determines the user's fertility status based on body temperature and other key fertility indicators. This tech will now power the Cycle Tracking feature in the Samsung Health app for users of the Galaxy Watch 5 series.
The Galaxy Watch 5 will track skin temperature with its infrared sensor and that, coupled with menstrual cycle tracking, will help the timepiece find the best fertility window for each individual user.
Consumers can now easily track their menstrual cycle right from their wrist, combining Natural Cycles' innovative fertility technology with Samsung's superior temperature sensor to provide a more holistic understanding of their health and wellbeing,
said Hon Pak, Vice President and Head of Digital Health Team, MX Business at Samsung Electronics.
The feature will be available in 32 markets, including the U.S., in Q2 of 2023. It's already been approved by Korea's MFDS and listed with the FDA.