The teased Material You redesign of Fitbit on Android appears to have been scrapped or delayed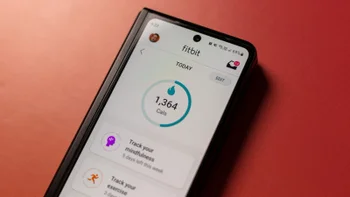 Last fall, images appeared on the
Google Play Store
of a planned redesign of the Fitbit app on Android. These screenshots showed the app taking on a Material You theme, keeping with the current trend of Google apps adopting its design language of choice. However, it appears that now those screenshots have been removed, calling into question whether the redesign has been scrapped.
The app redesign included a bottom bar shaped as an arc, which was highly distinct and undoubtedly original. This is in contrast to the solid bottom bar we see on the app now. Additionally, other sections were rearranged within the app, such as the "Today" tab which was moved from the first tab to the center of the screen, the word "Community" moved to the far right, and the word "Discover" moved to the far left.
The currently active tab of the app would also have its icon filled in, but it did't look like plans were made to fit the fourth "Premium" tab that appears in the current app as pretty much just a placeholder to call out the features. However, as noted by
9to5Google
, those screenshots are now gone from the listing and replaced with ones that match the design the app has now.
Current Screenshots vs Redesigned Screenshots (via 9to5Google)
The removal of these images from the Play Store listing prompts speculation that this redesign may not happen after all, or at the least has been delayed, perhaps so that its launch coincides with that of a new generation of Fitbit smartwatches. Still, I was looking forward to a new look in the Fitbit app, as it is starting to feel a bit dated and out of place with the rest of the Google apps.
Hopefully, the lack of updates to the Fitbit app are not due to
Google's recent layoffs
as the company also struggles with
antitrust lawsuits
across the U.S. brought on by the Justice Department. Let's hope the search giant's recent issues does not affect its ability to continue innovating and bringing us helpful features.