New feature will tell you how long you spend watching YouTube videos each day
3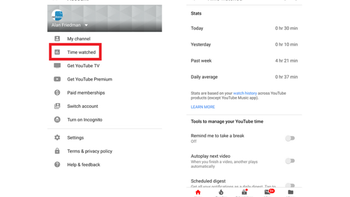 Back in May, YouTube rolled out a feature that reminds you to get out of bed, take a break, and stop binge-watching
Parks and Recreations
. You can
set this reminder to alert you from every 15 minutes to every 3 hours
. Now, as part of Google's Digital Wellbeing initiative, YouTube is pushing out a new tool that will allow you to see exactly how long you vegetated each day watching movies and old television series on the app.
Once the update arrives on your phone, the profile in your account menu will tell you how long you watched YouTube today and yesterday. It will also give you a running cumulative total over the past seven days, and calculate the average time you spend daily viewing the YouTube app. Sorry, but YouTube Music stats are not included. The menu will also include the ability to set the aforementioned break reminders.
You can also go into settings and set a single time each day to receive all of your YouTube related push notifications. And Google is now sending YouTube notifications without sound or vibration from 10pm local time to 8am so that you can get a restful sleep. You can change the hours of the "quiet times," or disable the whole thing in settings.
If you've received the update, you can access the new tool by opening the YouTube app. Tap on your avatar in the top right corner, and click on Time Watched.