Apple declines Facebook's request to help small businesses
48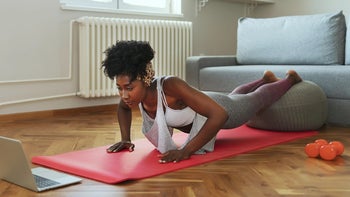 Seeking to help small businesses,
Facebook announced today
that it will allow businesses, educators, creators, and publishers to generate some revenue by creating online events that consumers will be charged to view. Facebook page owners will be able to promote the event, charge a price, collect the payment, and host the event. With the COVID-19 pandemic forcing consumers to wear masks and use social distancing, many businesses are turning to online events to connect with existing customers and reach new ones.
Apple refuses to help small businesses by waiving the 30 percent tax

For example, someone who normally offers art lessons in person can deliver these lessons online and charge for them. On a year-over-year basis, the number of live broadcasts from Pages has doubled. And the consumer can enjoy these interactive lessons as much as the physical lessons he or she was receiving. Facebook is also testing the use of Messenger Rooms for paid events as a way to host more intimate gatherings.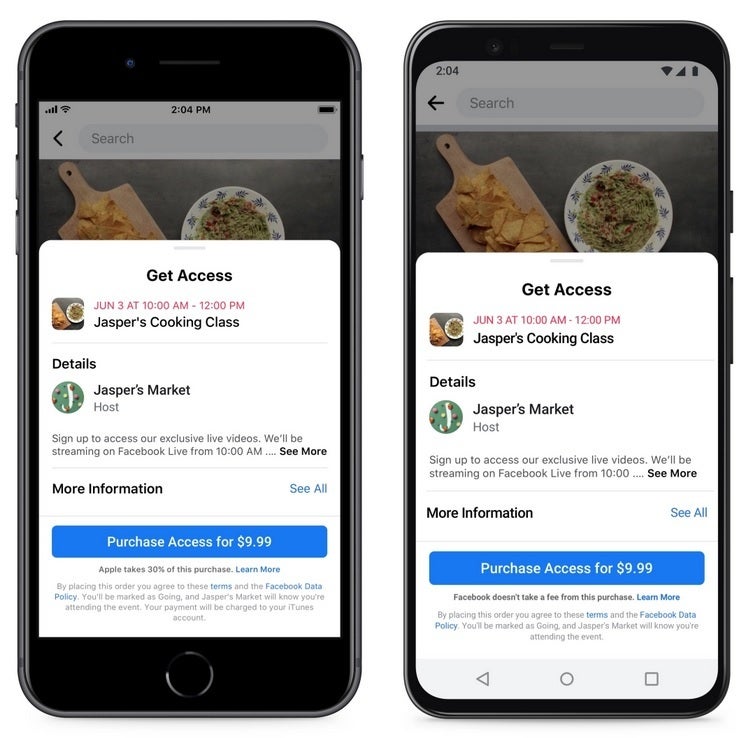 Online event on iOS at left, on Android at right
Some of the classes that Facebook is testing include "expert talks, trivia events, podcast recordings, boxing matches, cooking classes, intimate meet-and-greets, fitness classes and more." Facebook does have rules that must be adhered to in order to monetize content. Not only do you have to meet the requirements for monetization in order to make money on Facebook, you also have to live in an eligible country. Those countries include:
Australia
Belgium
Brazil
Canada
Czech Republic
France
Germany
Hungary
India
Italy
Mexico
Netherlands
Norway
Poland
Singapore
Spain
Sweden
Ukraine
United Kingdom
United States
To support small businesses, Facebook has decided not to collect any fees from paid online events for at least one year. With web-based transactions, and those done on Android, small businesses get to keep every cent they ring up. In order to keep these businesses from having to pay for transactions conducted over iOS, Facebook asked Apple to waive its 30% cut of in-app payments. Apple refused to do so; as Facebook says, "We asked Apple to reduce its 30% App Store tax or allow us to offer Facebook Pay so we could absorb all costs for businesses struggling during COVID-19. Unfortunately, they dismissed both our requests and SMBs will only be paid 70% of their hard-earned revenue."
Fidji Simo, Vice President, Head of Facebook App said, "We went through our usual channels to suggest strongly to them (Apple) to waive their fee or to let us use Facebook Pay -- one of the two -- and they declined. Simo called
Apple
an important partner and said Facebook relies on Apple's App Store to distribute its own apps while noting that the company disagrees with Apple's revenue structure. "Helping small businesses recover from COVID is a critical thing that all tech companies should help with. The reason we're calling them out here is we
hope
they join us and end up waving their fees, so that's really the goal here." Simo says that Facebook is willing to play by Apple's rules even when it doesn't believe in the game that Apple is playing. The executive says, "When developers go circumvent the rules on alternative payment methods, it doesn't go well."
Apple's 30% cut of in-app payments is being investigated by antitrust regulators in Congress. Like Apple, Google demands a 30% cut of in-app payments made over the Google Play Store. Unlike Apple, Google allows Facebook users to make payments over Android using Facebook Pay. This allows small businesses to keep 100% of the revenue they generate by promoting and offering online events on Android. In addition, while Apple doesn't allow App Store users to sideload apps over third-party app stores, Android users can. This is the difference between the App Store being called a monopoly and the Google Play Store being considered competitive.

Facebook is considering expanding online events to its 100% owned Instagram app and its Rooms videoconferencing feature.