Essential owns patent on a pop-up selfie camera similar to the one on the Vivo Apex concept
28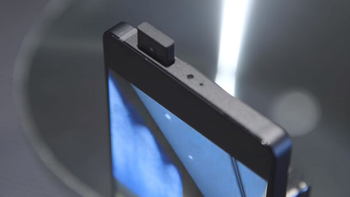 The other day,
we told you about the Vivo Apex concept phone
. With a tap anywhere on the bottom of the screen activating the in-display fingerprint scanner, and audio coming out of the screen, the near bezel-less display leaves another quandary for the manufacturer; with bezels this thin, where does Vivo put the front-facing camera? The proof-of-concept OG
Xiaomi Mi Mix
, which was the blueprint that many of today's bezel-less handsets followed, had its front-facing camera located in the bottom bezel. That was repeated in the
Mi Mix 2
. The
Mi Mix 2s
plans on putting the front-facing camera in the upper corner of the right screen as a mini-notch.
But Vivo has a better, notch-less plan. The Apex is equipped with a pop-up camera. You might be thinking to yourself that Vivo really came up with a great idea. However, a tweet from Essential's Andy Rubin (yes, the man considered to be Android's papa) revealed that a patent for a pop-up selfie snapper is owned by Essential. The patent was filed in May 2016 under the name "Apparatus and method to maximize the display area of a mobile device."
Images included with the patent application show one version of the camera popping up from the top of the phone similar to the Vivo Apex. In a variation, the camera was placed in the corner and doubles as the button users would press to activate the snapper.
Since the Apex is just a concept, it wouldn't appear that Vivo needs to license the pop-up camera from Essential. But when Vivo is ready to mass produce the phone for consumers, it would seem a conversation with Essential might be required first.
source:
@Arubin
via
MSPoweruser