Top 10 games with BEST graphics for Android and iOS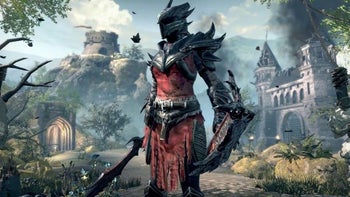 Our strive to keep you entertained during these times of isolation continues and this time have a mixed bag of games for you. We haven't picked them at random, however. All of the titles we'll present to you today have graphics that are far above the average for mobile games and offer eye-pleasing effects on top of that.
Of course, these games aren't just eye candy, they also offer immersive environments and engaging gameplay. Excited to see what's coming next? Let's get right to it, then!
TauCeti Technology Benchmark
Yes, we know what you're thinking: "Is that even a game?" And technically, it is. Sure, not a long one, but there is some gameplay involved. Mostly, it's meant to highlight what visuals can be achieved on smartphones today but since we're talking about high-graphics games, we decided to throw it in the mix. This is a first-person shooter and the graphics and effects are truly impressive. It won't keep you busy for long, but if you want to see how your phone will handle heavy 3D games, TauCeti is definitely a good choice to make your device sweat. As the name suggests, there are also a couple of benchmarks you can run as well.
Call of Duty: Mobile
If you're the type of person that likes to be scared and enjoys watching horror movies, Endless Nightmare is here to provide some creepiness to your day. You have to explore your own home to find out the truth about the horrible event that transpired in it. The game's graphics will help you immerse yourself in the spooky environment and hopefully contribute towards better scares throughout your adventure. That's what it's all about, right?