AT&T launches new mobile hotspot to enjoy fast 5G speeds
1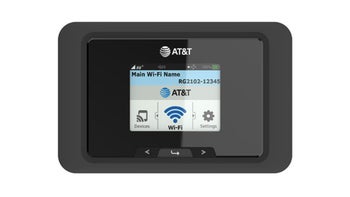 AT&T has several mobile hotspots available for customers who need fast, reliable data speeds while on the go. The Nighthawk M6 Pro seems like the most advanced mobile hotspot the carrier offers right now, but that will change later today.
The Franklin A50 5G is the follow-up to AT&T's previous mobile hotspot, Franklin A10, which is still available for purchase. The new mobile hotspot should offer fast and reliable connection with
AT&T 5G
for up to 20 devices.
It comes with a 2.4-inch color display and a massive, rechargeable 5,000 mAh battery, which isn't something that all mobile hotspots have. For example, the Franklin A10 is powered by a 3,000 mAh battery, while the more expensive Nighthawk M6 Pro does feature a large 5,000 mAh battery.
The newly introduced Franklin A50 mobile hotspot is powered by a Qualcomm X62 chipset, which can provide dual-band connectivity for up to 20 Wi-Fi enabled devices with international band support. This makes the Franklin A50 a less powerful mobile hotspot than the already available Nighthawk M6 Pro, which is equipped with a Qualcomm X65 chipset. The latter can provide connectivity to no less than 32 devices.
The Franklin A50 will be available beginning February 10 for $210. However, well qualified customers will be able to pick this one up on 0% APR 36-month installment plan for $5.84 per month. The mobile hotspot works very well with AT&T's two new DataConnect plan options: 50GB for $55/month, and 100GB for $90/month after discounts.
As far as business customers go, those who'd like to get AT&T's new mobile hotspot will be able to do so for $100 on a two-year service agreement. Also, in case you're wondering, the Franklin A50 is FirstNet certified and compatible with AT&T Wireless Broadband.
The Franklin A50 seems like a solid addition to
AT&T
's mobile hotspot portfolio, so if you're in the market for such a
5G
device, you'll be able to get it starting February 10.