Amazon has one cellular-enabled Apple Watch Series 8 model on sale at an incredible discount
1
We may earn a commission if you make a purchase from the links on this page.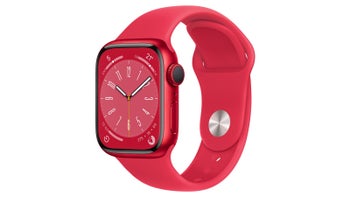 What's the overall
best smartwatch
you can currently use in combination with an iPhone? If you're not the world's biggest adventurer and you're also not made of money, that's a question with basically only one correct answer.
The
Apple Watch Series 8
is almost certainly the
most popular smartwatch around the globe
right now in addition to the top choice for iOS users who don't need a rugged wearable device, and if you happen to fall in that undoubtedly large category, you might be delighted to hear about Amazon's killer new deal.
The e-commerce giant has one specific Series 8 variant on sale at a huge combined discount of $248.01 with two-year AppleCare+ coverage bundled in, and believe it or not, this is one of the more affordable aluminum-made models we're talking about here.
Namely, a (Product) RED unit with a 41mm case and built-in cellular connectivity you'd normally pay $499 for. With AppleCare Plus regularly available at $79 for the Apple Watch Series 8, this special bundle is worth a grand total of $578, which means the aforementioned $248.01 equates to a whopping 42 percent slashed off that list price for a presumably limited time only.
How awesome is this deeply discounted price? Let's just say it's equal right now to how much Amazon charges for a red 41mm Series 8... with no 4G LTE support... or AppleCare+ service.
Put simply, this is by far the greatest deal ever offered by a major US retailer on any Apple Watch Series 8 model... not made from premium stainless steel. The hot new discount is unrivaled and unbeatable, and in many ways, so is
Apple
's latest "mainstream" high-end smartwatch itself.
This bad boy has everything it needs to keep an eye on your general health, physical activity, and sleep quality, always standing by to potentially
save your life
with ECG technology, fall detection, blood oxygen monitoring, and many other super-advanced and super-accurate tools.
On top of everything, the Apple Watch Series 8 is both sharp and surprisingly durable, at least for a device that's not technically included in the rugged segment.