Apple Music out of breath playing catch-up: web version finally arrives... in beta
10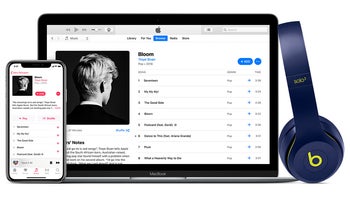 We live in the age of streaming and one of the first media formats to be massively consumed over the air is music. Gone are the days of carrying CDs and most of us have even forgotten about the days when we loaded MP3s in our phones or portable players. Nowadays, we have streaming services like Spotify that can play almost any song you can think of on the spot… provided you have access to the Internet.
In 2015, Apple decided to dip its toes in that specific market niche — a niche that was already well occupied by Spotify, Google Play Music, Deezer, Pandora, even Napster and Tidal. None the less, Apple has the ecosystem and it has a massive amount of its iPhones out in users' hands. Pair that up with the
HomePod
smart speaker, which launched in 2018, and Apple fans had a few pretty good reasons to switch away from a competitor and sign up for Apple Music.
Well, it hasn't worked miracles, as Spotify is still
decidedly in the leading spot
in subscribers. And — while Apple Music is doing OK — it definitely suffers from being poorly integrated or available across multiple platforms.
For example — Spotify is available on iOS, Android, PC, Mac, and even game consoles like PlayStation 4 and Xbox. If all else fails, you can just go to play.spotify.com on any web browser and play your music from there. This extreme integration through a plethora of partnerships (and the ability to listen for free) is what gives Spotify a massive advantage over its competition.
It is only now that Apple is gaining up on the simplest of those features — it now has a web player. Mind you, it's still in beta, too (though, we would guess that it's mostly polished.
Basically, all you need to do is go to
beta.music.apple.com
and — as long as you have a subscription to Apple Music — you can enjoy all the features you have in the app. Your playlists, favorited songs, suggestions and stations will be there.