Apple iPhone 9: best expected new features
17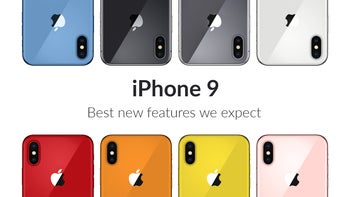 Apple is poised to launch three new iPhone models this fall, one of which will reportedly be an affordable offering, while the other two will serve as de-facto successors to the one-thousand-dollar iPhone X. Strangely enough, this more budget iPhone is actually shaping up as quite an exciting device, not least because of its rumored bezel-less design, premium build quality, and low price point. Oh, and let's not forget the rainbow of color options the (tentatively named) iPhone 9 is supposed to be available in at launch.
The iPhone 9 is rumored to have a 6.1-inch LCD display with and sport a bezel-less design with a "notch", similar to that of the iPhone X, presumably for 3D face scanning shenanigans and Face ID. Furthermore, it's also tipped to have a glass back for wireless charging, which is another nice feature to have on a supposedly budget phone. There's a lot to talk about, so let's not get ahead of ourselves here, and instead let's go through the best rumored new features that we are expecting the iPhone 9 to have when it launches this fall.
Bezel-less design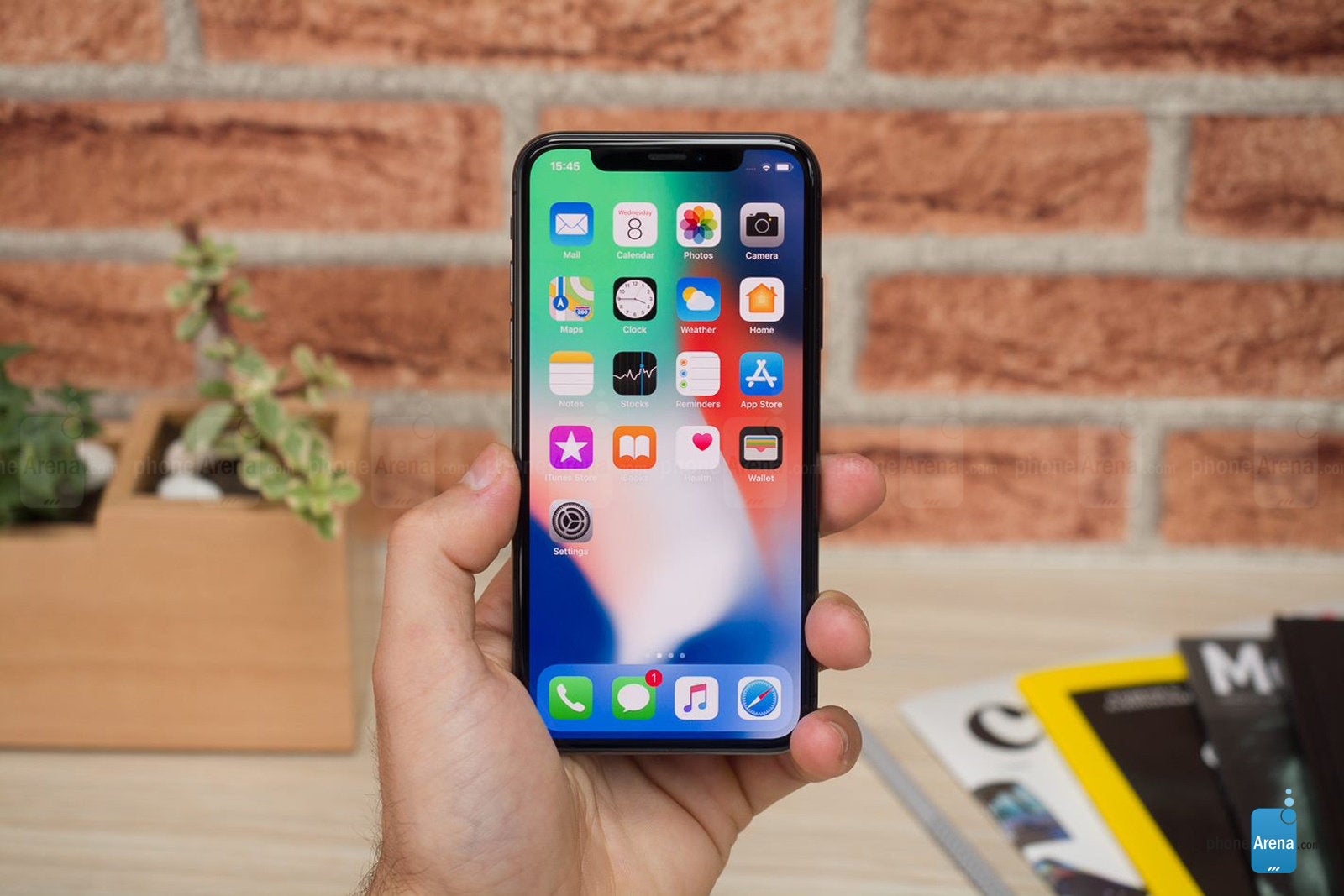 While last year's iPhone X was the only Apple phone to feature a new design, with the iPhone 8 and 8 Plus looking pretty much identical to the last generations, all three iPhone models this year are expected to sport slimmed down bezels, 19.5:9 screens, and notches. Speaking of bezels, however, a recent pair of a 3D printed dummy unit of the iPhone 9 (supposedly based on 3D CAD blueprints) depicted worryingly thick bezels all around. Check it out in the video below, but keep in mind that it's still early on, so these dummy units, even if based on CAD drawings, may not be fully indicative of the phone's final design:
That said, we wouldn't be surprised if the cheaper iPhone 9 did, indeed, have thicker bezels than the more premium (and also tentatively named) iPhone XI and XI Plus. Why? Well, it's going to be the cheapest of them all, so we're not expecting it to look almost completely identical to the premium offerings. The iPhone 9 will also sport an LCD screen, instead of OLED, so this could factor in when talking bezel size. Although, on the other hand, the LG G7 recently proved that you can have slim side bezels with an LCD panel, and Apple must have found a way to flex the panels either way, so it could do the notch.
Super-bright display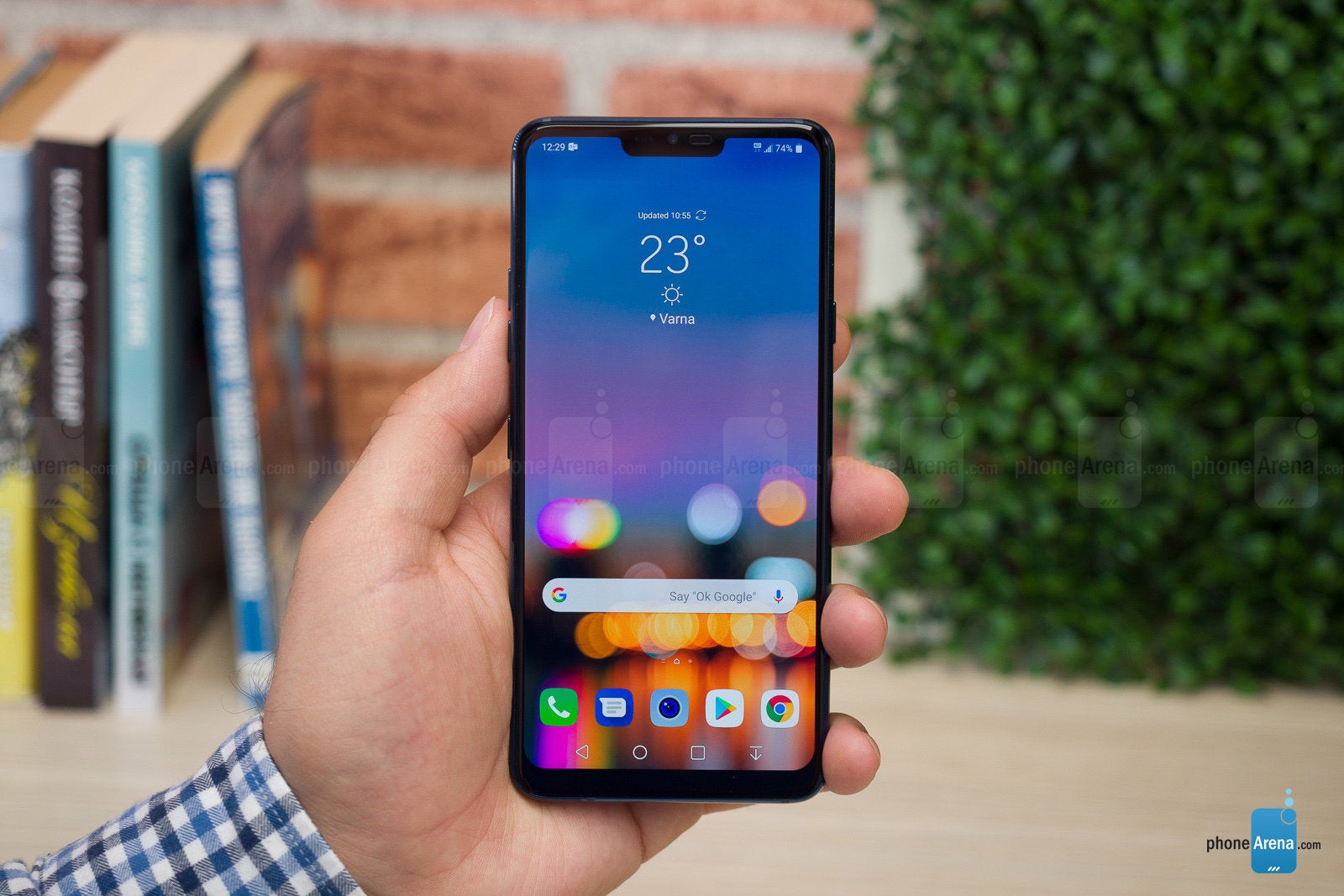 The LG G7 (depicted) has an MLCD+ display that can output 1000 nits of brightness. Apple may employ similar display tech in the iPhone 9
The iPhone 9 is heavily tipped to make use of
JDI's Full Active display technology
. While not an OLED screen, it is flexible enough for slight bending, plus the panel bezels and connection circuitry at the bottom are reduced to a minimum, making Full Active screens one of the most compact around.
The iPhone 9 will allegedly also have another display-related ace up its sleeve, and it is a tech that can currently be found on LG's newest flagship. Called MLCD+ on the G7, it adds an extra white pixel to the regular red, green and blue dots, so the backlight goes straight through to show white, instead of filtering three colors in an utter waste of resources. What this means in layman's terms, is that the display can output much greater levels of brightness while also consuming less energy compared to regular RGB matrices. The LG G7, for example, can pump up its brightness to up to 1000 nits, albeit for relatively short periods.
Another interesting rumor regarding the display of the iPhone 9 claims that it might not have 3D touch, but that it will sport a mysterious new layer. According to reputed analyst Ming-Chi Kuo from KGI Securities, the iPhone 9 screen will have an extra thin film sensor layer that could lead to a higher price tag. What is Apple planning to do with this layer, and will it mean some sort of mock 3D Touch will stay in the LCD iPhone model, remains to be seen. The analyst says that Apple is moving to cover glass sensor (CGS) technology for the mass 2018 iPhone, instead of utilizing the current in-cell one that integrates the touch layer in the display. The advantages of CGS, apart from lowered production costs, are that the panel reportedly becomes lighter and more durable, albeit slightly thicker.
Face ID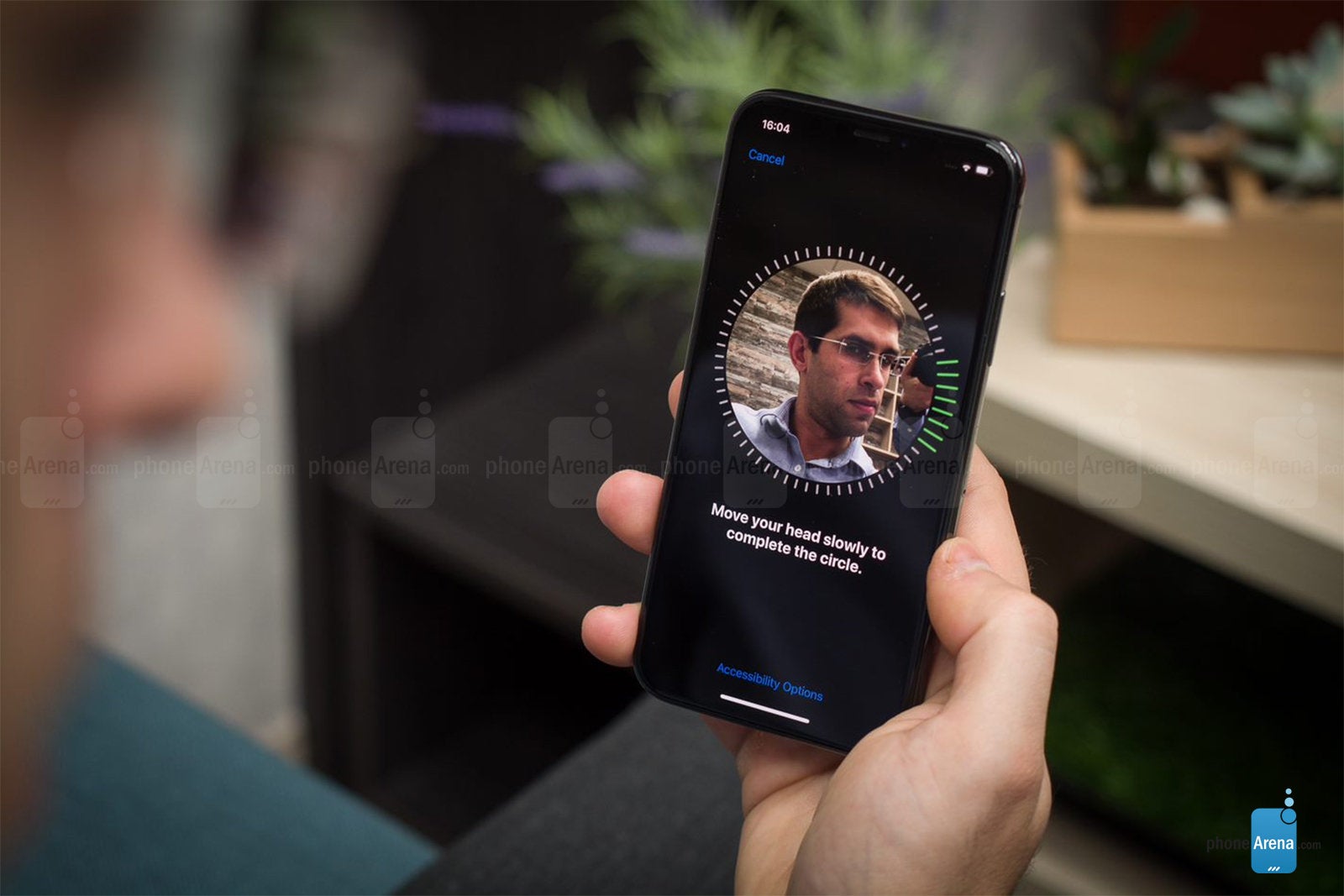 Depicted: Face ID on the iPhone X
One of the interesting (and most divisive) new features that debuted on the iPhone X last year was Face ID – the replacement of Touch ID that uses a bunch of cameras and sensors (situated in the even more divisive "notch" atop the display) to create a faithful 3D scan of your mug so you can unlock the phone by just staring at it... and also mess with 3D animoji characters (presumably to the annoyance of all your friends and everyone in your general vicinity while you're doing it).
It's interesting to hear that the advanced 3D face scanning tech will be coming to this year's cheapest iPhone model, as it is not just a regular front-facing camera. It is what Apple calls a TrueDepth camera that uses a dot projector, a flood illuminator, ambient light and proximity sensors, and an infrared camera to create a detailed 3D scan of your face. It doesn't come cheap and it isn't easy to do.
There's still a chance that the iPhone 9 may use a different, cheaper alternative of the TrueDepth camera that debuted on the iPhone X, but then again, if its production cost has been brought down since last year, we may very well see it on this year's affordable iPhone model.
An entire rainbow of color options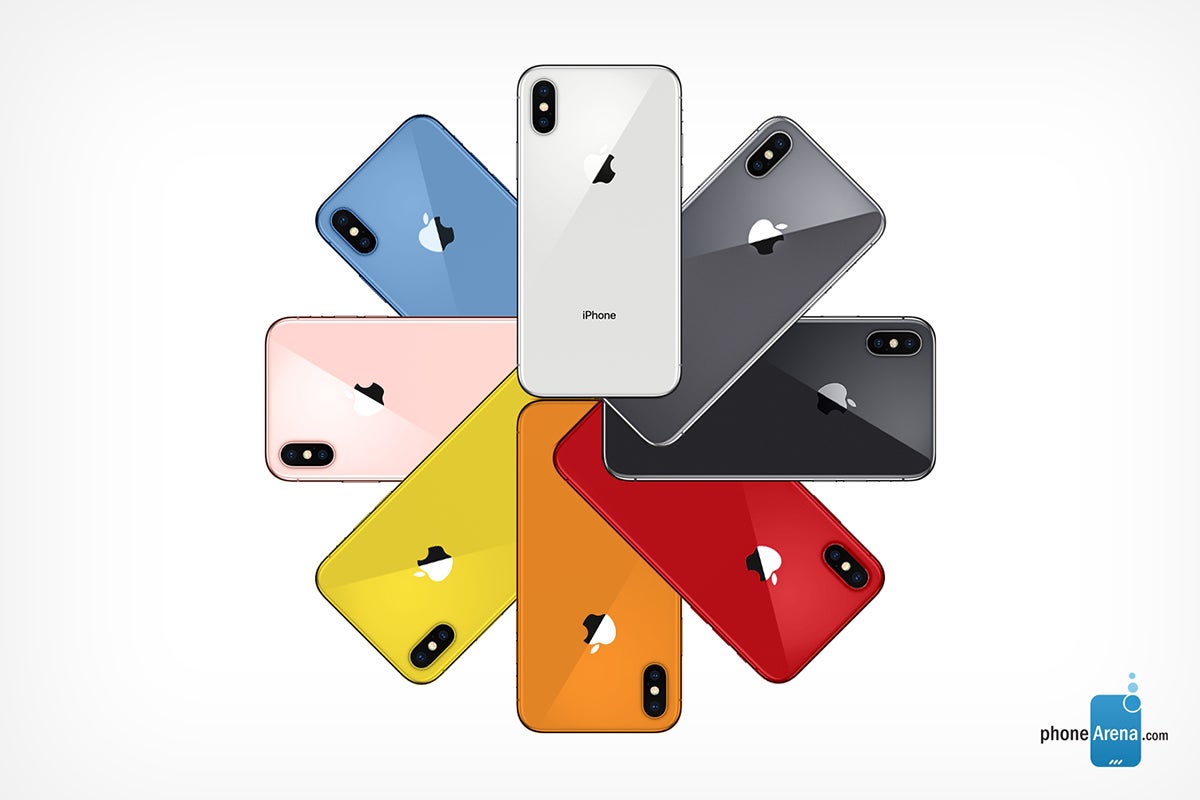 According to reliable tipster
@OnLeaks,
Apple engineers are currently experimenting with "
White, Black (likely Space Gray), Grey (lighter grey), Red, Blue, Yellow, Orange and Pink,"
color options for this year's iPhone lineup, though some of the hues may be dropped after the prototyping stages are over. But hey, even if one or two don't make it into the final roster, what's left is still more than we've ever seen in Apple's smartphone lineup, excluding the iPhone 5c, which came in five pastel shades (green, blue, yellow, pink and white).
What's more interesting, is that this rich palette of colors may come to the iPhone 9 only. Apparently, Apple still deems these lively colors not premium enough for the Roman numeral iPhones. Well,
hmph
, then! Keep your white, gray and black, give us blue, red, yellow and orange! We don't know how many of these colors will make their way to the finish line after prototyping is over, but we've got our fingers crossed for as many as possible. And if only the "budget" iPhone gets them? Well, we say that's one clear advantage it will have over the more expensive models!

ALSO READ: