Here is what Apple's new 2018 iPhones might cost
29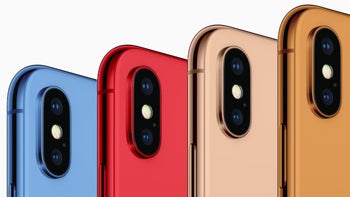 Apple is expected to launch three new iPhones in the second half of the year, and for the first time, all three of them are expected to come with the new notched design of the iPhone X and all three are expected to adopt the gesture navigation of the X. The three new phones should be officially announced in early September with sales starting by the end of September and while nobody knows the names of the upcoming models, let's call them the iPhone 9, iPhone X (2018) and iPhone 9 Plus for the sake of simplicity.
What will be the differences between these models?
Let's take a closer look at each one of them below.
iPhone 9

- The most affordable of the three new iPhones will be the iPhone 9, a device with a 6.1-inch screen and the only one that will still use an LCD screen. This will also be the only new phone to come with a single rear camera and no support for portrait mode. All of those compromises are what will justify a rumored starting price of $700, as much as the current iPhone 8 costs. Interestingly, the latest rumors also point out that this phone will be offered in iPhone 5C like vibrant colors, including a grey, white, blue, red and orange versions.
iPhone X (2018)

- The 2018 edition of the iPhone X is expected to come with upgraded internals and a few new features, as well as a drop in price. Apple could drop the price of the iPhone X by $100 to achieve a starting cost of $900 to free up space for...
iPhone 9 Plus

- This one is expected to be a true plus-sized phone with a rumored 6.5-inch AMOLED screen, all-out specs and performance. Apple is rumored to price this most advanced new iPhone from $1,000.
One common theme shared across all three models will be the new Face ID verification that will replace Touch ID completely this year.
With all this in mind, here is how the pricing of the 2018 iPhone lineup is shaping up to look after the launch of the new iPhones in late September:
2018 iPhone lineup expected prices
| Phone | Price |
| --- | --- |
| iPhone 9 Plus | from $1,000 |
| iPhone X (2018) | from $900 |
| iPhone 9 | from $700 |
| iPhone 8 Plus | from $700 |
| iPhone 8 | from $600 |
| iPhone 7 Plus | from $570 |
| iPhone 7 | from $450 |
| iPhone SE | from $350 |
It's interesting that the two most expensive iPhone models differentiate themselves from all the rest with two key features: the presence of an AMOLED screen and a dual camera with Portrait Mode.
We're curious to see whether there will be other distinctions that will justify the rumored higher price of these phones.
So... which new iPhone are you most excited about? Are you planning on buying a new iPhone this year?
*Image (mockup of new colors for 2018 iPhones) courtesy of 9to5Mac.