Zune phones coming - via Windows Mobile
8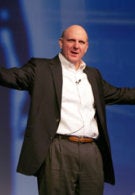 A few days after Microsoft CEO, Steve Ballmer
said to Reuters
: "I do not anticipate us building a phone. Sorry, we are not going build one," he has revealed to CIO Magazine (in a somewhat offhand fashion) that "
the Zune software will also be ported to
and be more important not justwith the hardware but on the PC,
on Windows Mobile devices
, etc" (emphasis ours).
This strongly suggests that the much rumoured Zune phone is coming - just that instead of being a single Microsoft-manufactured handset, it will be part of many Windows Mobile devices. We would hope that more concrete announcements would be made soon, but in any event, making the Zune software part of (
the delayed
) Windows Mobile 7 is probably most appropriate.
If this comes to pass, it will make Windows Mobile more enticing. While the Zune itself has not achieved the mass market penetration Microsoft would have wanted for it, it has nevertheless garnered generally favorable reviews; and the integration of the Zune's software layer into a phone would certainly make for a more attractive multimedia device.
source:
CIO Magazine
via
wmpoweruser.com