ZTE Star 3 could be the first smartphone with a 4K display
26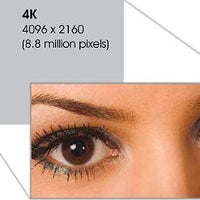 If a new rumor from China is to be believed, ZTE could soon launch the ZTE Star 3 as the world's first smartphone with a 4K display. According to the rumor, the ZTE Star 3 will be launched with a 5.5-inch display running at a resolution of 2160 by 3840 pixels and a PPI of 806. As we can't be sure of the validity of this information, make sure to digest it with a dose of skepticism.
The rumor also suggests that the ZTE Star 3 could make use of a TFT Panel with a special crystal structure that is said to reduce power consumption while also improving the strength of the display.
Sharp announced its
first 4K smartphone display
- a 5.5-inch model with the same PPI of 806 - back in April, but the company said that the panel won't be ready for mass production until 2016. Allegedly, the 4K display on the ZTE Star 3 will be manufactured by China's BOE, and will have very narrow bezels - just 0.55mm thick, according to the source.
Last week, a few alleged
renders of the ZTE Star 3 leaked online
, revealing a smartphone with a curved back, a bezel-less display, as well as a dual-camera setup on the back.
Just recently, we performed a small research to find out if people can really tell the
difference between Full HD and Quad HD displays
on smartphones, and the results showed that the extra sharpness is very hard to notice. We have full confidence that it will be even harder to notice extra pixel density associated with a 4K display, although the feature will grant the ZTE Star 3 some bragging rights that the company's marketing team might be able to exploit.