ZTE on Hawkeye: "We acknowledge our mistake"
10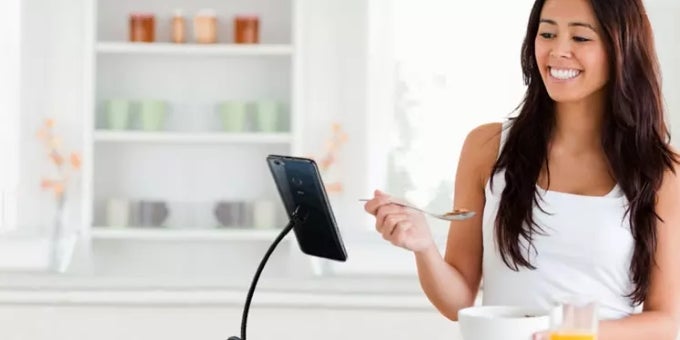 The
ZTE Hawkeye
, previously known as Project CSX, was born in an unorthodox way, and its entire existence so far had little in common with how the mobile industry normally works today. The phone was created by asking the general public to submit their ideas, and out of all submissions, the most peculiar one won. Therefore, the Hawkeye features an adhesive back panel, that allows it to stick to any surface, and eye-tracking software for hands-free use.
After the winning project was selected,
ZTE made a prototype that it showcased at CES
this month, and
launched a Kickstarter campaign
to fund the phone. However, this is where things turned south. People wanted a revolutionary smartphone, and such a device would come with all the bells and whistles of the mobile industry, such as Snapdragon 835, massive amounts of RAM, and so on. But according to the official specifications by ZTE, its new device was nothing more than a mid-ranger that you can stick to a wall and control with your eyes.
Needless to say, people were not happy with what was offered by ZTE. And the Kickstarter campaign for Hawkeye stalled. At the time of writing this article, less than 7% of ZTE's goal for the device has been funded by merely 182 backers. And with 26 days to go, things are not looking good for Project CSX. So, in a desperate attempt to save its new device, ZTE is turning to its users once more.
In a blog post on ZTE's website, the company says that it acknowledges its mistake.
"[W]hen the Eye-Tracking, Sticky phone went on to win Project CSX, we lost sight of what many of you submitted and voted upon as competing submissions,"
wrote Jeff Yee, VP Technology Planning and Partnerships at ZTE. Yee continued by saying that the company realized that introducing the adhesive, hands-free concept on a mid-ranger was not a good move.
"It was our mistake,"
he wrote.
ZTE Hawkeye will be able to stick to walls and mirrors for easy hands-free use.
However, considering the nature of Kickstarter, it would be hard for ZTE to deliver a much better product. While the product itself can be changed, the initial price of $199 can't, due to how Kickstarter works. Therefore, ZTE would not be able to deliver a flagship-specced handset without going in the red. The best it can do, would be to upgrade whatever it can while staying in the same budget. And in the spirit of the entire Project CSX, ZTE has created a poll to help it choose what to beef up.
The poll is open to members of the Z-Community, so anyone with a profile can vote. At the time of writing, only 85 people have done so, though. And it appears that the main problem users have with the specs is the CPU, as 47% of the votes call for a replacement of the Snapdragon 625 with the brand new 835. The other votes are distributed as follows:
Swap the 3,000 mAh battery for a 3,500 mAh. (11%)
The OS would be Stock Android with added software for eye tracking. (13%)
Other. (29%)
The "other" option asks people to leave a comment under the poll, and if we're to judge by what users are writing, the second most-requested upgrade is more RAM.
By what we're seeing with the poll and the Kickstarter campaign, Hawkeye's future doesn't look so bright. It appears that there just isn't enough interest in ZTE's new device, or in the brand in general. And quite honestly, with phones such as the
Samsung Galaxy S8
and
iPhone 8
on the horizon, we can't really blame anyone for taking a pass on Project CSX and its mid-range specs.
Recommended Stories