We press our noses against the glass to look at ZTE's crowdsourced Project CSX "Hawkeye" smartphone
11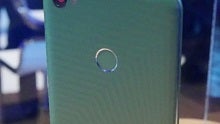 At last year's CES, ZTE kicked off Project CSX, an initiative to completely crowdsource a mobile device, from physical design, to feature set, to spec sheet. To funnel all that input, ZTE also created the Z-Community, an online forum for ZTE users and enthusiasts to share information, experiences, and find support.
The Z-Community was also the hub for developing Project CSX over the past year. One of the last big things to do was come up with a name for this smartphone. This past October, after receiving over 500 name submissions from users in over 170 countries, the winning name was selected.
This is Hawkeye. That is literally all we know about it and this is as close as we could get to it since it is still a just a non-working build. Aside from the name, and general appearance of the device, we don't yet know what camera or processing bits will be used, nor have there been any decisions about battery or screen resolution. Headphone jack? Maybe, maybe not.
Two "winning" features for Hawkeye from the crowdsourced consumers are a "self-adhesive" ability – being able to stick the phone to a variety of surfaces and an eye tracking feature, the ability to scroll through content by just using your eyes hands free.
This would cause many to declare all this vaporware, and to be honest, it is. But, ZTE is committed to building this phone, and in keeping with the crowdsourced nature of the project, it has launched a Kickstarter campaign to cross the finish line. Just $199 will get you Hawkeye by September, before anyone else. Go to
kickstarter.zteusa.com
to place your order and support the project.
Keep checking back for our continuing coverage at CES 2017 in Las Vegas.