ZTE launches Kickstarter campaign for its crowdsourced, self-adhesive phone, priced at $199
4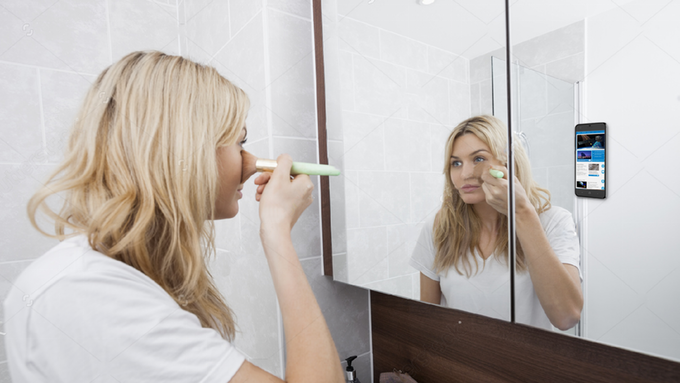 Back in August of 2016, ZTE announced that it wanted to make a mobile product built around the ideas of regular folks. It launched a crowdsourcing campaign allowing anyone to submit a feature that they wanted to see in a ZTE device – anything that was cool and/or useful, that was technically possible to implement, and that the community would approve of with their vote. That's how Project CSX was born.
Today, ZTE's bold initiative reached an important milestone. The company confirmed that Hawkeye has been chosen as the final name for Project CSX and that Hawkeye will be available for preorder via Kickstarter, projected to ship in Q3 of 2017.
But what is the ZTE Hawkeye anyway? Well, it is an Android phone that stands out with a couple of intriguing features. One is that a self-adhesive case allows it to stick to most flat surfaces, such as a drawing board or a bathroom mirror – for watching cat videos while brushing your teeth, for example. Another is the built-in eye-tracking feature, which can be used for automatic, hands-free navigation. Imagine web pages scrolling up or down when you're looking at the respective portion of the screen.
Will either of these work well? There's no saying yet. The ZTE Hawkeye is still at a very early stage of its development. Even the images that you'll find below are just mockups of prototypes made by ZTE. What is known, on the other hand, is that the phone will be an unlocked, dual-SIM device, with LTE support in the US. Specs are expected to include a 5.5-inch Full HD display, dual rear cameras, a fingerprint sensor, expandable storage, and a large battery with quick charging capabilities.
If you want one of these, you'll have to wait until September, as that's when the first batch of ZTE Hawkeye phones is going to ship. The good news is that the phone costs only $199 for early Kickstarter backers, with an adhesive case and free shipping included.
You can back the ZTE Project CSX phone on Kickstarter by following
this link
.
Recommended Stories