ZTE ZMAX phablet coming to T-Mobile for just $252
13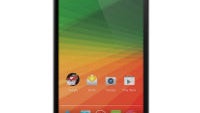 The phablet market is getting more crowded these days, especially if you count devices like the 5.5-inch LG G3, OnePlus One, or iPhone 6 Plus in that category, but the low-end phablet market still needs more options. ZTE has recognized this and is bringing the ZTE ZMAX to T-Mobile to help fill the need for inexpensive phablets.
Obviously, when talking about an inexpensive phablet, you shouldn't be expecting top shelf specs, and the ZMAX doesn't change that. The device features a 5.7-inch 720p display, a Snapdragon 400 SoC, 2GB of RAM, 16GB of storage, an 8-megapixel rear camera, a 1.6-megapixel front camera, and a 3400mAh battery. The device also has Gorilla Glass 3 and an expandable microSD card slot.
The phone itself is a basic black rectangle with nothing too special about the design. It is slightly bigger than the Samsung Galaxy Note 4 at 6.4 x 3.3 x 0.35-inches (162.56 x 83.8 x 8.89mm), but is actually a bit lighter than the Note at just 5.5 oz (155.9 g). The software is almost pure stock Android 4.4, except for ZTE's own Nubia camera app, which adds a bit in the way of control.
The ZTE ZMAX will be coming to T-Mobile on September 24th, supporting LTE and Wi-Fi calling, and it will cost just $252 at full retail, or $10.50 per month for 24 months on T-Mobile's installment plan.