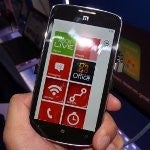 ZTE is entering the Windows Phone market (finally), now that the
ZTE Tania
seems poised to make its presence known overseas in the European market first. Above all things, the biggest standout with this
Windows Phone Mango smartphone is its affordable cost
, which won't burden the pockets of those with a tight budget.
Right off the bat, we're reminded about the original Samsung Focus while quickly playing around with the ZTE Tania at Microsoft's CES booth, well, that's because it looks very similar to it. By today's standards, it takes the safe approach of sticking firm with a
conventional looking design
, which doesn't quite take a commanding presence over other top-notch Windows Phones. Nevertheless, its build quality is fairly decent with its
glossy all-plastic body
, but it's not going to win any awards in looking good.
Part of the reason why it's priced affordably is because its specs are pretty much in line to what we saw with first-generation Windows Phones, and to tell you the truth, that doesn't stop it from running good. Featuring a
4.3" WVGA display
, it's right there with other Windows Phones on the market, while producing some rich looking colors – though, it tends to wash out at various angles. Meanwhile, its
1GHz single-core processor Qualcomm Snapdragon MSM8255
processor is handsomely adequate in providing a very telling responsive experience – then again, that's pretty much like any other Windows Phone out there.
Whereas the HTC Titan 2 and Nokia Lumia 900 are attacking those who truly want something next-generation, the ZTE Tania favors the other end of the spectrum. Therefore, if you simply don't care for some of the luxuries found with those upper-end devices, like 4G LTE connectivity and faster CPUs, the ZTE Tania is indeed going to be a great solution – especially when the Mango experience is untainted and that it operates similarly to those two smartphones. Just don't expect your friends to jump at you when you tell them what you have in hand.