ZTE Nubia Z5s mini hands-on
3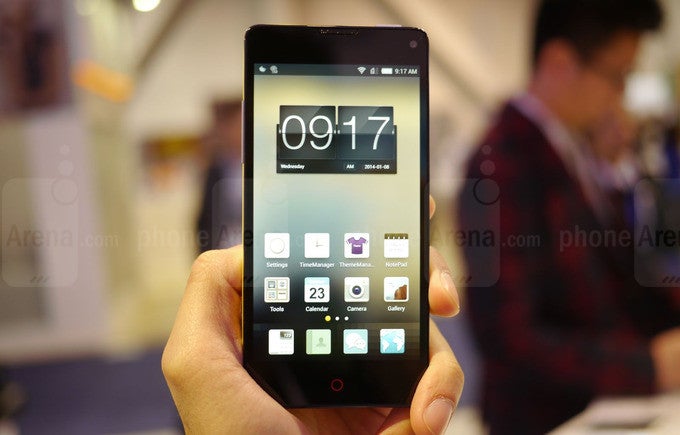 Here at CES, ZTE is showcasing its Nubia Z5s mini smartphone – a slightly smaller alternative to the company's Nubia Z5s flagship. It is already on sale in China where it can be bought for as low as $250, which is definitely not bad considering what you get in exchange. The colorful handset has a respectable Snapdragon 600 SoC under the hood paired with 2GB of RAM and it treats your eyes to a 4.7-inch HD IGZO display made by Sharp. Let's check it out in detail.
Design
They call it the ZTE Nubia Z5s mini, but don't let the name fool you. The phone doesn't feel that small at all. This, of course, shouldn't come as much of a surprise since there is a 4.7-inch touchscreen on the device's front. As a matter of fact, the Nubia Z5s mini is almost as big as the 5-inch Nubia Z5s. That aside, ZTE seems to have done its job well. The Nubia Z5s mini feels okay in the hand and we are glad to see that it comes in a variety of colors. Its slim profile and low weight are impressive as well.
There's not a whole lot going on around the sides of the phone. There's a power key on the top of the ZTE Nubia Z5s mini along with an audio jack. The microUSB port is on the bottom and the volume rocker is on the left side. Popping its back cover off reveals the 2000mAh battery and the slot for microSD cards. All the Android navigation buttons found below the screen are of the capacitive kind.
Display
What's special about the 4.7-inch, 720 by 1280 pixel display on the ZTE Nubia Z5s mini is that it is made using Sharp's IGZO technology. These panels are known to be less power hungry – great news considering that a phone's screen is often what sucks the most power. Overall, the screen is definitely not bad with its good color representation and pleasing viewing angles. The resolution is not groundbreaking, but more than sufficient for a screen of this size.
Interface
Android 4.2 is loaded on the ZTE Nubia Z5s mini, but it has been extensively modified from its original form. We instantly noticed that the app drawer has been removed, presumably in effort to make apps easier for the user to find. But with all app placed on the home screen, it might get a bit crowded there eventually. Many of the phone's core apps and features, from the lock screen and the notification panel to the dialer and productivity software, have been altered as well. For those who are into personalization, ZTE has pre-installed a theme manager with various skins to pick from.
The ZTE Nubia Z5s mini is not to be underestimated since it comes with a 1.7GHz quad-core Snapdragon 600 SoC. In addition, 2GB of RAM have been added for seamless multitasking. That's a pretty good hardware combo considering the phone's price - hardware that was considered top-notch only about a year ago. We didn't see any major slowdowns or lags during the short period that we got to test the phone.
The microSD slot on the Nubia Z5s mini can accommodate cards of up to 32GB in size in case the 16GB of built-in storage aren't quite enough for you. Alternatively, there's the more expensive, LTE-capable 32GB model of the Nubia Z5s mini.
Camera
We don't get to see a phone with a 5MP front-facing camera every day. The ZTE Nubia Z5s mini has one, which makes it is more than suitable for snapping casual selfies. But an even more capable snapper is located on its back – a 13MP camera with an LED flash is at your disposal. Furthermore, with the pre-loaded camera application, ZTE is giving users more control over the image being taken. Separate controls for the focus and exposure are provided by the software, and a number of scenes and modes come built into the app.
Expectations
Seeing the word "mini" attached to the name of a phone of this size just doesn't seem right. But other than that, we can't find anything wrong with the ZTE Nubia Z5s mini – it is a pretty decent phone with colorful design and good value-for-money ratio. Too bad that launching this phone Stateside isn't in ZTE's plans, at least not for now.