ZTE Grand S II hands-on
4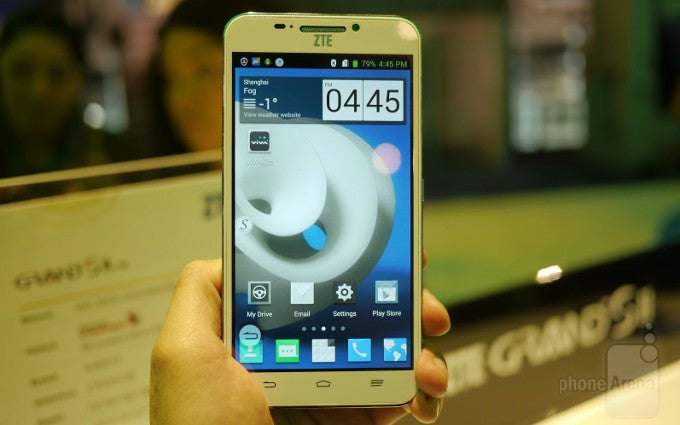 The Grand S II is the newest phablet in Chinese ZTE's portfolio, and falls short of nothing, at least on paper. It's equipped with a big, 5.5-inch 1080p display, meaning crispy 401 pixels per inch. Underneath the panel sits Qualcomm's mightiest -- the 2.3GHz, quad-core Snapdragon 800, with Adreno 330 GPU. The rest of the specs read like a true flagship, too: a 13-megapixel camera, 2GB of RAM and a giant 3000mAh. So none too shabby, yet the real hard-hitter is the Grand S II's always on listening mode, very much alike to the one of the Moto X.
Display
As we mentioned, the ZTE Grand S II makes use of a 5.5-inch, 1080p display, which works out to a sweet 401ppi, meaning that you won't be able to tell each individual pixel apart, no matter how much you squint. This is a pretty big panel, firmly into phablet zone, which isn't necessarily something bad -- there's a growing crowd for these things. Anyway, the screen appeared to be of good make, though we won't be able to really comment on its qualities until we get some quiet, one-on-one time with it.
Design
Looking at the the exterior of the ZTE Grand S II, it doesn't exactly wow us. Its simplistic design feels a tad uninspired, and we definitely found ourselves wishing for a tad more. That being said, it's not all bad. For one, there's a nice metal frame hugging the profile of the Grand S II, signifying that this is not just any device. Said frame has added to the final weight, but not an awful much -- the phablet tips the scales at 150g, which is none too bad.
Interface
Some of the software powering the ZTE Grand S II is actually kind of interesting. The interface is just as uninspired as it was before, though we were pretty happy to note that ZTE has done some extra, quality work. We're, of course, referring to the Grand S II's Moto X-like voice commands, including voice unlock and other shortcuts to things like Drive mode and voice-activated photo capture. None of these are something completely new, but we were content to see the Chinese company putting some effort into stepping up its software game.
Processor and memory
Qualcomm's finest -- the quad-core Snapdragon 800, clocked at 2.3GHz -- powered the ZTE Grand S II, and, as is to be expected, it provided a no-frills experience during our hands-on time. The 2GB of RAM and Adreno 330 GPU inside offer sweet multitasking capabilities, not to mention that even the heaviest crop of games should fail to force the chipset to stutter.
Camera
The ZTE Grand S II is outfitted with a 13-megapixel rear shooter, with an LED flash and auto focus capabilities. We've come to expect a unit much like this one with flagships, though we would like to know whether it really measures up to the competition. This is especially relevant, since we've been witnessing an avalanche of inferior, but just as impressively-sounding snappers become part of even some mid-range phones.
Up at the front, we have a 2-megapixel unit that should prove capable enough for the occasional selfie or the odd video call.
Expectations
There's no denying this -- the ZTE Grand S II sounds great. It's packing some truly high-end hardware, and the software has also seen some notable improvements. The phablet doesn't exactly wow with its appearances, but it felt sturdily made, and isn't without a character of its own. Knowing ZTE, this will end up as a pretty affordable solution, all things considered. Unfortunately, availability and pricing info is kind of scarce at this point, though we do hope to see this device make it onto US and European soil.