ZTE Geek, the world's first Tegra 4 phone, is now officially official
19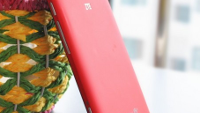 The ZTE Geek, the world's first Tegra4-powered smartphone has had a rocky start, and we're unsurewhether the way ZTE handled it all spells professionalism or the veryopposite.
Let's dial back all the way to thebeginningof April. The ZTE Geek was showcased during the Intel Developer Forum(IDF) in Beijing, probably because at that time it was said to bepowered by a 2GHz dual-core Intel Atom chipset and sport someotherwise upper mid-range specs, like a 720p screen. The Intelversion of the Geek was slated for a Q3 launch.
That didn't last. A fewmonths later in July, a TENAA certification (China's FCCequivalent) spoiled whatever surprise there may have been by spillingthe beans on a new, overhauled version of the ZTE Geek, at leasthardware-wise. The new Geek now had NVDIA's latest and greatest Tegra4 SoC on the inside, and the aforementioned 720p screen got a bump to1080p – a pretty healthy (and much needed) upgrade, if you'retargeting the high end in today's climate. Companies, however, don't usuallylike it when their products are unveiled without their consent (or a level of preparedness), soZTE went ahead and jumped right in, "announcing" the ZTE Geekwith the help of a few snaps posted on the manufacturer's Weibo account. Ouch.
So how do you make the best of such amess? Unveil the handset once again, making it officially official.For the second time. That's right, ZTE has just launched the Geekwith an appropriate amount of fanfare during Beijing's InternationalTelecommunication Exhibition. The specs, luckily, haven't changedfrom the last time – it's still a 5-inch 1080p device powered by a1.8GHz quad-core Tegra 4 system-on-chip. It's got the respectable 2GBof RAM, though the battery, at 2300mAh, is kind of underwhelming.What's more, the ZTE flagship is currently available only on ChinaMobile's network, and it will unfortunately not support 3G outside ofthe country for the time being. Luckily, the price point that ZTE hasachieved with the Geek is pretty impressive and makes up for themessy introduction: the ZTE Geek costs only 1888 Yuan, or about $308.