Foldable, dual-screen ZTE Axon M (Multy) leaks out, could be announced on October 16
13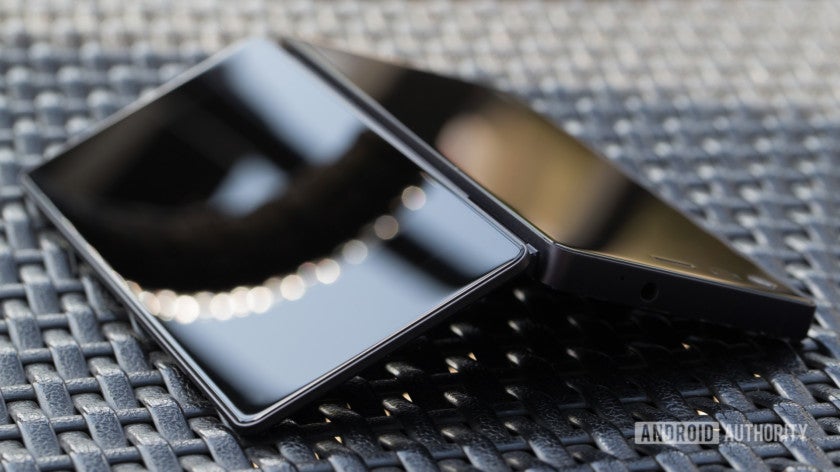 A few weeks back, we heard about the ZTE Axon Multy, anupcoming smartphone that reportedly packs two displays in a foldable design.Now, Android Authority seems to have a photo of said handset (included above), showing it semi-unfolded.
It's said that the two screens of this new ZTE Axon smartphoneare both Full HD (1080 x 1920 pixels), and, when the device is fully open, theyform a flat 6.8-inch display area with 1920 x 2160 pixels. To be clear, the twodisplays themselves are not foldable, but the device is, thanks to what appearsto be a hinge system. Interestingly, the two screens may have the ability toshow different apps at the same time, thus (likely) providing a superior multitaskingexperience.
According to Android Authority, this new smartphone

might bereleased as ZTE Axon M. However, the leaked logo revealed earlier this monthclearly reads "Axon Multy", not Axon M. Of course, ZTE has theliberty of changing the name as it wishes before actually announcing the device.
From what we can see, the Axon M / Axon Multy appears to bewell designed, having a manageable thickness (the visible 3.5mm headset jack suggeststhat the phone could be under 10 mm thick). Inside, the device should have aQualcomm Snapdragon 820 processor, 4 GB of RAM, 32 GB of storage space, and a 3120mAh battery. All in all, this new Axon will fall short of standing next to 2017flagships like the Samsung Galaxy S8 or LG V30, which are powered by the newerand faster Snapdragon 835.
The ZTE Axon M / Axon Multy might be officially unveiled onOctober 16 - ZTE already said that it would hold a press conference in New York on that day. Aspreviously reported, the new handset could be exclusive to AT&T in the US, possiblycosting around $650.
Do you think a smartphone like this can be successful? Or will it be just another niche product that doesn't really push the industry forward?
source: Android Authority
Recommended Stories