ZTE Axon Multy with dual-screen design coming soon to AT&T
9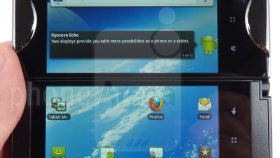 ZTE and AT&T are planning to launch an interesting smartphone that will feature a foldable dual-screen design, in the vein of the 6-years old Sprint-exclusive
Kyocera Echo
(pictured in this article). According to Venture Beat, the upcoming handset is called ZTE Axon Multy, and should be exclusively sold by AT&T come mid-October.
Reportedly, the ZTE Axon Multy is a horizontal clamshell with two 1920 x 1080 pixel screens that normally sit on the phone's front and back, respectively. When the device is unfolded, the screens form a 6.8-inch flat display area - which, to be fair, isn't much larger than what many of today's smartphones offer thanks to just one screen (the 6.3-inch
Samsung Galaxy Note 8
, or the 6-inch
LG V30
are very fine examples in this regard).
Unfortunately,

at the moment, there are no images that show the ZTE Axon Multy, so we can't pass judgments on its design. Regardless of that, some of the phone's specs should include a Qualcomm Snapdragon 820 processor, a 20 MP camera (apparently, this will serve as both front, and rear camera), 4 GB of RAM, 32 GB of internal memory, and a 3120 mAh battery.
It's said that AT&T plans to ask $650 for the ZTE Axon Multy, presenting it as a phone that's perfect for media consumption, including DirecTV content. The handset will likely run Android, but it's not clear if it's Oreo, or Nougat.
Will consumers want a smartphone like the ZTE Axon Multy? It's hard to tell, but the device may have a hard time fitting in, as there are already plenty of great smartphones out there that cost around $650, or even less, while offering screens large enough for adequate media consumption.
source:
Venture Beat