ZTE Apollo to be the first 64-bit Android smartphone?
4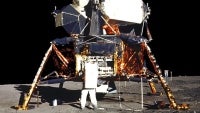 Chinese media CNMO reported that ZTE ispreparing a 64-bit Android smartphone, codenamed Apollo. Allegedly,it will be based on one of Qualcomm's new Snapdragon 808 and 810silicon powerhouses, although the chip-maker has the Snapdragon 410,610, and 615 on disposal too. The source hasn't been specific aboutwhich exact model it is, but it claims that the ZTE Apollo is goingto be a 64-bit phone. Any of the four options will make for acapable, future-proof handset, although the five chipsets are verydifferent.
The Snapdragon 410 and 610 arequad-core models for low and mid-range devices, which work on 1.2GHzand 1.6GHz, and are paired with Adreno 306 and Adreno 405 GPU's,respectively. The Snapdragon 615 is an octa-core 1.8GHz beast withthe same GPU as the 610, and while it looks powerful enough, thehexa-core Snapdragon 808 and octa-core 810 eat that, and all priorQualcomm silicon for breakfast. Then they ask for more.
If ZTE is priming the Apollo for alaunch this year, it will have to suffice for the Snapdragon 610 or615, which should be available this fall. This fact also puts therumors about a 64-bit Nexus 6 smartphone to doubt, although this isstill a possibility if Google opts for an Intel Architecture 64-bitCPU. The Snapdragon 808 and 810, meanwhile, are slated for the firsthalf of 2015, although it goes without saying that Qualcomm will be delivering them in the hands of manufacturers fresh out of the oven. They will have to power the early 2015 flagships, ofcourse.
source: CNMOvia GFor Games
Recommended Stories