In the near future you may only need your phone to buy smokes and booze
3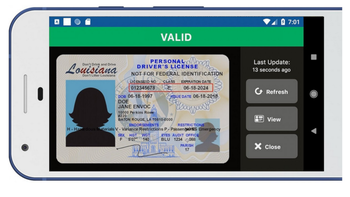 Imagine a scenario in the not so distant future when a cop pulls you over for speeding. He approaches the driver's side window, which you roll down, and he pulls out his smartphone and demands that you connect your phone to his using NFC. Why would a cop ask for this?
According to XDA
, Google is currently working on a way to have driver's licenses securely stored on your handset and sent to a cop's mobile device when necessary.
With a digital driver's license, you can update it without spending hours in line at the DMV. If your phone is stolen, the license can quickly be voided and a replacement sent to your new device. And with mobile payment platforms like Apple Pay, Samsung Pay and Google Pay all equipped with virtual wallets, when you go out on a shopping trip, all you will need to take with you is your smartphone. Already in some states, like Louisiana, a digital driver's license is accepted by the cops and can also be used to verify the age of someone purchasing cigarettes or alcohol.
XDA says that Google is working on an IdentityCredential API that would take care of a couple of problems that could come up if you digitally store your driver's license in a smartphone. The API will make it difficult for an attacker to copy the license to another device. Meanwhile, a "direct access" mode will allow the IdentityCredentials API to turn over driver's license information to a policeman even if the battery level on your phone is low enough to prevent it from operating normally.
According to the author of the IdentityCredential API commit, Shawn Willden, the idea is not to give a cop your phone for him to extract the data from the license. Instead, you will connect your phone with the officer's handset using NFC. Once you unlock your device with a fingerprint or passcode, your phone would lock the fingerprint scanner from working, and you will have to enter a passcode to give the policeman your digital driver's license. This is because the U.S. courts have ruled that a cop can force you to unlock your phone using your fingerprints. However, a cop cannot force you to unlock the same phone with a password since that would violate the Constitutional rights that protect you from self-incrimination. Therefore, using a password to open your phone to give police your driver's license would prove that you were not coerced into doing so.