Your Facebook Messenger app is getting a new AI assistant
4
Facebook is rolling out a brand new AI assistant to its Messenger app. The new feature, dubbed M, analyzes your conversation by locating certain key words and then offers relevant suggestions based on the context of your dialogue right on your chat screen.
As everybody loves to brand their assistants as "AI" these days, one might assume that the capabilities of the new Facebook virtual helper are comparable to Google Assistant, Siri, or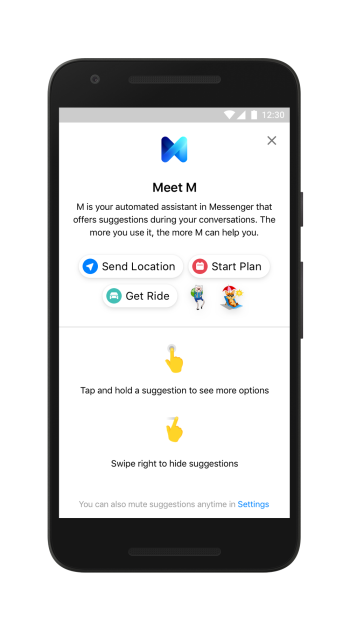 even Bixby. The reality is that M isn't as advanced as the above, but it should help streamline and simplify all the texting you do in Messenger by allowing you perform certain actions faster.
These actions include sharing your location with friends, offering relevant sticker suggestions, starting a poll in group chats, providing you with an easy way to meet up with somebody if you're planning to do so. M can even help you get a ride via Lyft or Uber or initiate payments through Messenger.
As mentioned above, all of this is triggered by certain key words in your conversation, and appears in the form of a pop-up bubble. You can tap and hold on said bubble to get more suggestions, while swiping to the right will dismiss it altogether. If you wish to entirely remove M from your sight, you can do so by going to M settings.
The assistant was actually announced over a year ago, and it initially was a "small AI experiment" in which humans oversaw conversations and gradually improved the service using machine learning techniques. The whole process was eventually automated, and after a few months of testing, the feature is now expanding to all Android and iOS Messenger users in the US. Other countries will also get a hold of M in the coming months, although it will be interesting to see how useful it will be with other languages.
Have you tried M already? Let us know what you think about the new Facebook feature in the comments below.
source:
Facebook