You can now update your Samsung Galaxy S II to Android 2.3.4
7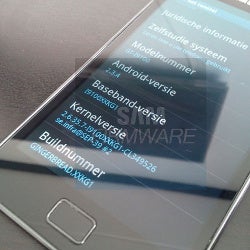 The
Samsung Galaxy S II
might be flying like hotcakes off store shelves, but it still hasn't made its US debut. That doesn't stop it from getting the latest of Android Gingerbread, though, as folks over at SamFirmware got their hands on a leaked firmware update to Android version 2.
3.4
with a build date of July 5th.
This update is a minor one, but if you're interested in features like enabled video calls in Google Talk, better battery life, improved reception and patched security holes, you won't be disappointed after spending a few minutes to manually update your phone. Of course, you can wait for Samsung to officially release it, but it's anyone's guess as to when it will come. Trying it on your own though carries some risks and you may void your warranty, so proceed with caution. Check out the download links below for the files you need and instructions about how to install them.