You can now order a NoPhone for $12, or its selfie version for $18
43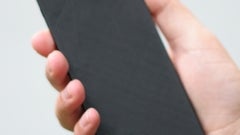 Not long ago, we
told you about the NoPhone
, a product that's supposed to be an anti-smartphone: it looks like one, but it doesn't really do anything, being just a 5.5-inch (140 x 67 x 7.3 mm) piece of plastic with no technology inside. The NoPhone was crowdfunded on KickStarter, and you can now order one, or more of them.
The basic version of the NoPhone costs $12. There's also a "NoPhone with 1 selfie upgrade" that can be yours for $18 - this features a reflective mirror sticker for instant, non-hackable selfies. You can order NoPhones at the source link below, and expect to receive them in December (shipping in the US is free). According to Global News Canada, over 1,600 units have been already ordered.
While the NoPhone idea may have started as a joke, and many people will see it that way, the folks behind it now say that the device (if we may call it that) can combat smartphone addiction, acting "as a surrogate to any smart mobile device, enabling you to always have a rectangle of smooth, cold plastic to clutch without forgoing any potential engagement with your direct environment." They even compare the NoPhone to Apple's iPhone 6 in a humorous way, pointing out that the former allows you enjoy "real face time" with your friends ((see the comparison image in the slideshow below).
So, are
you
getting a NoPhone?
source:
NoPhone
via
GlobalNews