YotaPhone bringing dual-screen LCD/eInk smartphone in time for Christmas
8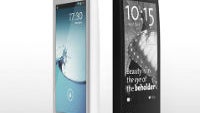 One thing that we've been hoping for in a smartphone for a long time now is a hybrid LCD/eInk display. We always expected it to come in the form of a Mirasol transflective display, but YotaPhone decided that it didn't want to wait for that technology to mature and would rather just put two screens on one device - LCD on the front and eInk on the back.
We first heard about the
YotaPhone
at CES back in January, then about a month after that we heard that it had secured a
manufacturing deal
, and now the device is finally ready for an international release in time for Christmas. The internals of the device won't wow anyone, but isn't terrible with a 1.7GHz dual-core processor (possibly a Snapdragon S4 Pro), 2GB of RAM, a 13MP camera, and an 1800mAh battery all running on Android 4.2.2. But, the real draw of the phone is that it will feature two displays: a 4.3-inch 720p LCD on the front, and a 4.3-inch 360x640 eInk display on the back.
You'll notice that the battery is a bit small, but the theory is that you'll be able to save quite a bit of battery life by offloading some usage to the eInk display, which will use a fraction of the power used by the LCD. You can mirror anything on the LCD to the eInk by simply flipping over the phone, but the eInk display will also be used to show persistent notifications, which will be displayed until you interact with them.
The extra display does add a bit of bulk to the device, it clocks in at just under 10mm, which is downright obese compared to modern phones like the the Nexus 5 (8.59mm), iPhone 5s (7.6mm), or Galaxy Note 3 (8.3mm); but, the YotaPhone is still relatively light at 146g, which is about the same as the HTC One.
YotaPhone hasn't announced specific release dates or pricing for most regions, but it has said that it will launch in Russia this month for 20,000 rubles (~$611).