Yahoo Mail adds new features to help you clip coupons, and stay up-to-date about your flight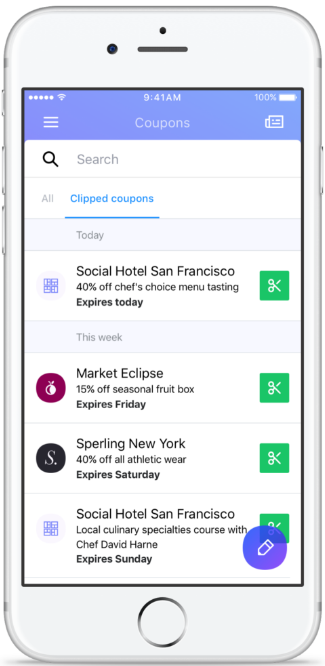 Yahoo Mail keeps track of your coupons, allowing you to "clip" the ones you want, and get an alert before they expire
Right on time for the holidays, Yahoo Mail is adding two new features that are available starting today.
Coupons
and
Flight Alerts
are both perfectly suited for the holiday season. First, let's start with the coupons. Available on mobile and the web, this feature will collect all of the coupons you receive and put them in a list. On the mobile app, users can "clip" the coupons that they are interested in and receive an alert when they are about to expire. On the desktop version, clipped coupons are found in at the top of the inbox until they expire.
Yahoo says that its Mail app will receive 50 billion emails from retailers offering deals for the holiday season. That works out to 160 coupons for every man, woman and child in the U.S. Many deals making up this huge mountain of offers are never opened, which is just like throwing money down the drain. But with Yahoo Mail, the latest coupons emailed to your inboxes are sent to Yahoo Mail for you to see (Yahoo Mail can connect to any Gmail, Yahoo, AOL, or Outlook account).
So let's say that because you used Yahoo Mail to find and use coupons that saved you a ton on your holiday shopping, you have some money left over allowing you to personally hand deliver the gifts you bought your parents. You don't want to miss the flight, and that is where Yahoo Mail's Smart Travel View and Flight Change Alerts come into play. Scanning all of your inboxes, Yahoo Mail looks for the important information on your flights, and posts it in an easy to understand format (Departure/arrival airport, date, time, etc.).
24-hours before your flight, you will receive a notification that it is time to check-in, which comes with a link to your airline's check-in page. Six hours before take-off, Yahoo Mail will send you updated information about the terminal you plane is leaving from, and the gate number where you will go to board the plane. If you're using these capabilities in the mobile app (as opposed to the website), click on "Get Directions" to find the best route to the airport, and the estimated travel time.
On the day of your flight, Yahoo Mail is a whirling dervish of activity, constantly scanning for changes, delays and cancellations. If anything is changed, you will find out via a notification. If your flight has been cancelled, the Travel Smart View information will reflect that, and give you a prompt that you can tap on to call your airline.
Shopping and traveling are two of the things that are rewarding about the holidays, but they can also be headache inducing. With Yahoo Mail, you can save money by using the coupons you receive via email. And by being up-to-the-second on your flight information, you can even shrug off the mob at the airport.
To install Yahoo Mail on your iOS or Android device, click on the appropriate link (
iOS
|
Android
)
source: Yahoo