Xiaomi's fitness band to launch August 18th, priced at $13
17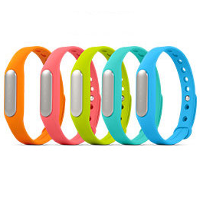 Xiaomi is known for offering value-priced smartphones and tablets. Now, it is adding a fitness band to the mix. Priced at 79 yuan ($13 USD), the Xiaomi Mi Band is expected to launch on August 18th. With IP67 certification protecting it from the elements, the Xiaomi Mi Band will give you enough juice to offer you 30 days of standby power.
This way, the Xiaomi Mi Band will have enough energy to handle all of the features that you bought the device for. That includes sounding an alarm when you have overslept, and teaching you the best ways to run and walk for maximum results while exercising. Thanks to the Mi Band's ability to live through a submersion to as deep as 1 meter, you can even track your swimming motions.
You can connect the Xiaomi Mi Band to your Xiaomi phone by using Bluetooth. And the fitness band can also be of use to you in unlocking your handset.
source:
Xiaomi
via
gizmobic