Xiaomi teases November 11th event; is the Xiaomi Mi 5 coming at last?
14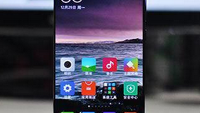 The
Xiaomi Mi 5
has been
long rumored to be the first smartphone that will employ the Qualcomm Snapdragon 820 SoC
. But the only way to prove that this is true is for the company to introduce the phone and to discuss the quad-core Kryo CPU that is carried by the chipset. Could that scenario take place this coming Wednesday, November 11th?
A freshly discovered Xiaomi teaser shows the outline of a smartphone, hidden behind a red curtain with a question mark on it. In other words, whatever new smartphone model is being introduced next week, Xiaomi is not just going to give the name away. At least not without making us think about it first.
The teaser has a heading that calls the event the "Mi Dual 11," a nod to the 11/11 date that it is being held on. The image also carries a quote from the company that reads, "This time we play the big! (sic) New phone finale debut at 0:00 on November 11 onwards." Now, if we accept the idea that the word "finale" was actually supposed to be "finally," then it would make sense to crow that we will see the long awaited Xiaomi flagship on Wednesday.
Another theory has the Mi Dual 11 referring to both the Xiaomi Mi 5 and the Xiaomi Redmi Note 2 Pro. The latter is reportedly a phone carrying the same specs as the
Xiaomi Redmi Note 2
,
but with a metal build and a fingerprint scanner
.
You can give us your thoughts on what you think Xiaomi is up to, by leaving your comments in the box below.
Thanks for the tip!
source:
TimesNews.co.uk
Recommended Stories