Xiaomi president confirms the company's next 'flagship' is coming in January 2015
15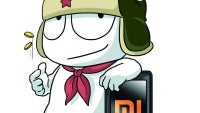 Xiaomi addressed the Android legions via social media today, boasting about big finances and big devices.
As we reported last week
, the Chinese company completed its latest round of funding, raising $1.1 billion at valuation of $45 billion. This, Xiaomi president Lei Jun says, "is an affirmation of our stellar results in the four years, and heralds in a new phase for the company". To attract more investor interest and raise excitement, Jun also confirmed that Xiaomi will be unveiling its next flagship device in January 2015.
Now what could that be? Lei Jun didn't say "flagship smartphone" specifically - he said "flagship device". However, we doubt Xiaomi will be about laptops, TVs, or air purifiers right about now. Smartphones are Xiaomi's facade and its most successful business, so we'll take it as a given that the company will announce a new handset. In this line of thought, both the Mi5 and the Redmi Note 2, the newcomer to Xiaomi's affordable line, leaked around Christmas, and both boast some serious muscle. Furthermore, the Mi5 is rumored for an introduction at CES 2015, while the Redmi Note 2 could be launched by the end of January. So chances are it's either one, or both of these two.
And this is where speculation starts. In January, the Xiaomi Mi4, which is the company's current flagship smartphone, will reach the ripe old age of... 6 months on the market! Xiaomi is not Sony, famous for its "two flagships a year" habit, therefore we don't expect the Xiaomi Mi5 to land so early. But we must presume that when Mr. Jun says "flagship device", he means it to the fullest extent. So let's bet on the Mi5 while keeping our eyes open for the Redmi Note 2 in the meantime. We're sure both will be nice surprises for the Android community.
Rumors and leaks describe the Mi5 as a Snapdragon 810-powered QHD screen monstrosity
with extremely thin side bezels and a lowly cost of just $325 in China, while
the Redmi Note 2 could show up as a 5.5-inch 1080p phablet
with a Qualcomm Snapdragon 615 or MediaTek MT752 processor and 2GB of RAM.
Xiaomi will be setting its plans in motion soon, so we'll see what's in store before long.