Xiaomi Mi Note vs Samsung Galaxy S5 vs Apple iPhone 6: specs comparison
10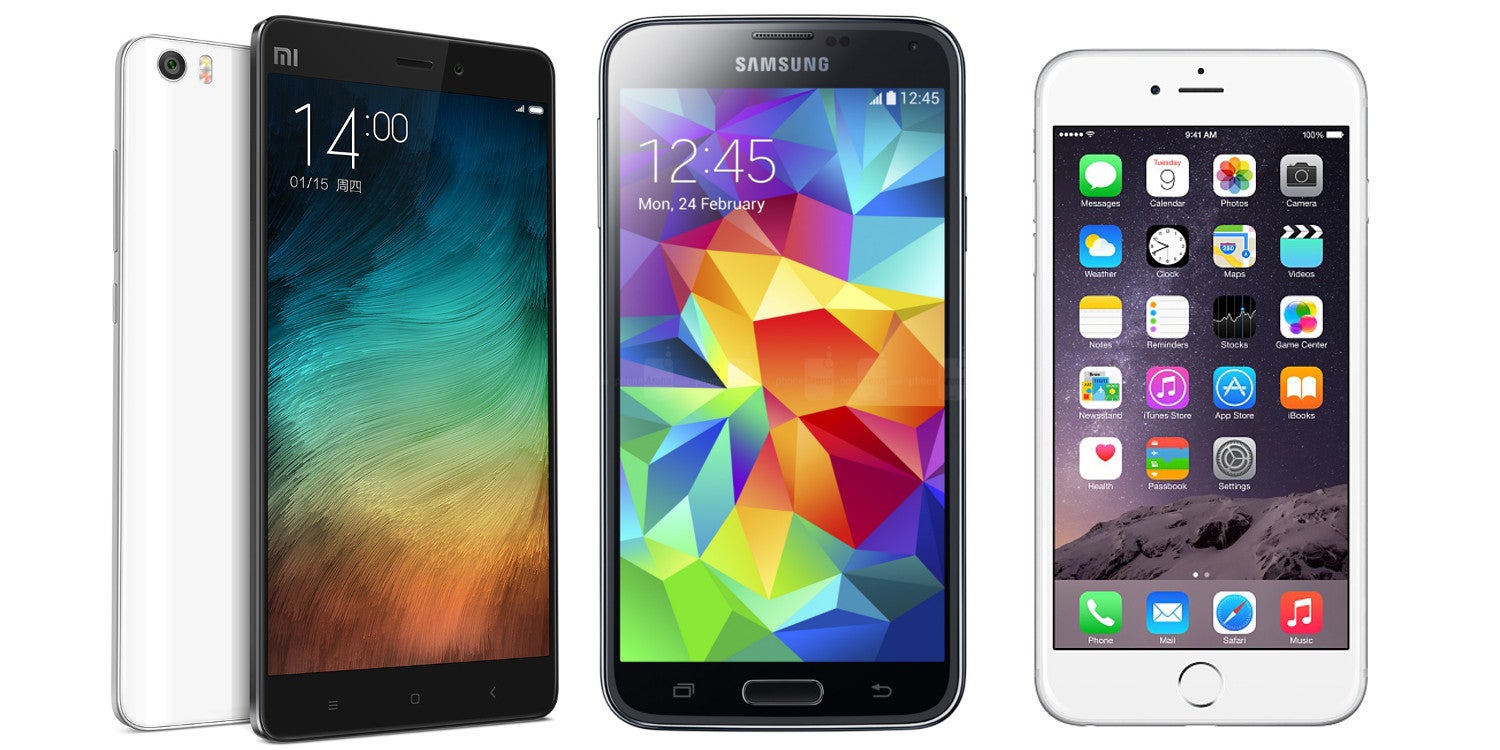 Enter the
Xiaomi Mi Note
, the all-new flagship device of one of the largest smartphone makers in the world right now. It, alongside its bigger and more spec'd brother, the Mi Note Pro, is by no means sub-par to most of the higher-tier phones available right now, but what made us the biggest impression is the slightly higher price tag that Xiaomi asks for its new crop of devices. But we digress.
The device surely packs some potent silicon muscle under the hood, but how does it fare against the more popular device out there, the battle-worn and scarred
Samsung Galaxy S5
and the ever-fierce
Apple iPhone 6
. A pretty fierce competition, if you ask us, but we believe that Xiaomi's newest will probably appeal to those who are on the market for a device that offers some reasonable bang for the buck, complemented by well-rounded design.
Let's grab some pop corn and tune in for the specs battle!
Scratch-resistant glass, Ambient light sensor, Proximity sensor
Oleophobic coating, Scratch-resistant glass, Ambient light sensor, Proximity sensor
Scratch-resistant glass, Ambient light sensor, Proximity sensor
Qualcomm Snapdragon 801 MSM8974-AC (28 nm)
Apple A8
Qualcomm Snapdragon 801
Quad-core, 2500 MHz, Krait 400, 32-bit
Dual-core, 1400 MHz, Cyclone ARMv8-A 2nd gen., 64-bit
Adreno 330
PowerVR GX6450
Adreno 330
32GB
128GB, not expandable
64GB
Android (6.0 Marshmallow, 5.1 Lollipop, 5.0 Lollipop, 4.4.4, 4.4.2), Samsung TouchWiz UI
iOS (12.x, 11.x, 10.x, 9.x, 8.x)
Android (5.0 Lollipop), Xiaomi MI UI
Qualcomm Quick Charge 2.0
21.00 hours
the

average

is 17 h (996 min)
16.2 days (390 hours)
the

average

is 20 days (472 h)
10.4 days (250 hours)
the

average

is 20 days (472 h)
21.00 hours
the

average

is 19 h (1110 min)
14.00 hours
the

average

is 19 h (1110 min)
34.00 hours
the

average

is 19 h (1110 min)
3G: 10 hours; LTE: 10 hours; Wi-Fi: 11 hours
67.00 hours
50.00 hours
18.00 hours
13.00 hours
11.00 hours
10.00 hours
Single camera
Single camera
Single camera
8 MP (Sapphire crystal lens cover, PDAF, BSI sensor)
Aperture size: F2.2; Focal length: 31 mm; Sensor size: 1/2.6"; Pixel size: 1.12 μm
Aperture size: F2.2; Focal length: 29 mm; Sensor size: 1/3"; Pixel size: 1.5 μm
Aperture size: F2.0
3840x2160 (4K UHD) (30 fps), 1920x1080 (Full HD) (60 fps)
1920x1080 (Full HD) (60 fps), 1280x720 (HD) (240 fps)
Yes
HDR, Continuous autofocus, EIS, Video calling, Video sharing
Time-lapse video, Continuous autofocus, Picture-taking during video recording, EIS, Video calling, Video sharing
2.1 MP
1.2 MP
4 MP
1920x1080 (Full HD)
1280x720 (HD)
1920x1080 (Full HD)
5.59 x 2.85 x 0.32 inches (142 x 72.5 x 8.1 mm)
5.44 x 2.64 x 0.27 inches (138.1 x 67 x 6.9 mm)
6.11 x 3.06 x 0.27 inches (155.1 x 77.6 x 6.95 mm)
5.11 oz (145.0 g)
the

average

is 6.5 oz (184 g)
4.55 oz (129.0 g)
the

average

is 6.5 oz (184 g)
5.68 oz (161.0 g)
the

average

is 6.5 oz (184 g)
Back: Plastic
Back: Aluminum
Fingerprint (swipe)
Fingerprint (touch)
Touch sensitive control keys, Interchangeable covers, Notification light
Touch sensitive control keys